Bahamas Catamaran Charters
Island hopping in the Bahamas has never been so fun!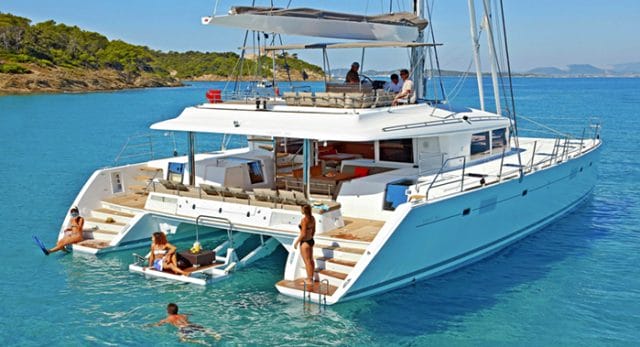 With more than 700 islands and cays to explore, Bahamas crewed catamaran charters from Worldwide Boat offer a faster, more efficient and elegant way to explore this region.
A crewed catamaran charter allows you to explore gorgeous islands, sandy beaches, secluded coves and coral reefs as you make way through the stunning turquoise waters in this incredible area of the world.
Here are the reasons why you should choose a crewed catamaran for your yacht charter in the Bahamas.
Catamarans have a shallow draft
This allows access to more shallow harbors, bays and coves that a motor yacht or a monohull would not be able to access. A Bahamas catamaran charter will get you closer to the beaches, reefs, capes and other areas where waters are more shallow. Because of the shallow draft, catamarans have more anchoring options, which is helpful during peak season when yacht charters are at a high.
Catamarans have large, wide deck areas
Catamarans have an optimal layout with lounging and living areas on top, providing guests with spectacular panoramic views. There is also less space between decks, which means you won't have to climb tall flights of stairs. The living and lounging spaces, both indoors and outdoors, are much larger. This makes entertaining a breeze.
Catamaran charters offer more privacy
Finding your own little oasis for a moment of solitude on a catamaran is easy since there is ample deck space. Privacy is one of the reasons many choose a catamaran charter, since the layout has sleeping quarters located in the hulls, keeping them separate from the common areas.
Catamaran charters are known for safety and stability
Catamarans are very stable both when at anchor and while under way. They don't roll because of a dual hull structure, keeping the deck fairly level, and they have natural buoyancy. They also tend to handle rough waters more efficiently, and watertight compartments allow a catamaran to stay afloat even if a hull is pierced. Catamarans are a great choice for families or those who are new to the charter world because of reduced seasickness and an overall safer travel experience.
Catamarans offer a wide selection of water toys and activities
Most catamarans come with water toys, sports and other activities that guests of all ages can enjoy. Scuba diving, snorkeling, fishing, kayaking and paddleboarding are just some of the fun a catamaran can offer. Some have hot tubs on deck. Trampolines are also a bonus on a catamaran. You'll have more freedom to plan excursions along the way so you can experience the art, music, wildlife, culture and history of the region. When not in the water or exploring one of the Bahamas islands and cays, take advantage of the charter's entertainment options, like movie libraries, video game systems, or board games.
Catamaran charters are cheaper than motor yacht charters
Catamarans have lower operating costs, making them a more affordable option than a motor yacht charter. When you begin the booking process, let your charter broker know your budget, and they will match you to the perfect crewed catamaran. A charter is also a more affordable option than taking your group to a luxury resort. Since you're not competing with hundreds of other guests for the attention of the staff, your charter crew can provide you with a five-star, VIP experience.
Catamarans are family friendly
There are many factors that make catamarans the best choice for a family charter. When booking, select a crew that has experience working with children. Your kids will remember a captain that shows them how the boat works, and crews that set up theme nights or treasure hunts. The safety and stability of a catamaran's construction is also ideal for families, plus some offer additional features like baby gates, safety nets around the decks, and pocket doors on the stairwells. The layout of the decks and the location of the cabins allows you to be close to the children at all times. Finally, catamarans provide a selection of water sports, inflatable toys, life jackets and other gear specifically for children.
Connect with our charter specialists to learn about our wide array of crewed catamaran charters in the Bahamas, and we'll help to plan the best sailing vacation possible!