Azimut Yachts for Charter
Azimut has been one of the most revered shipyards in the world since 1969
Azimut Yachts has a long history in the yacht-building industry – having produced luxury motor yachts since 1969. And today, the Italian shipbuilder is a leading megayacht producer – one of the most revered shipyards in the world.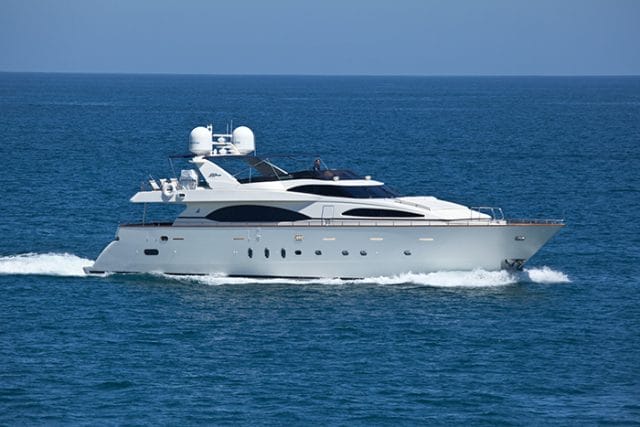 What's not to love? Azimut yachts have a signature sleek, athletic look. The company's tri-deck and flybridge motor yachts are works of art, with clean flowing lines and signature four panel windows in the hull. (That's a signature you'll notice on all of Azimut's yachts.)
Inside, the shipyard's yachts are just as awe-inspiring. Azimut's designers produce interiors that are wrapped in high-end materials and loads of contemporary Italian style – making the perfect place to entertain and unwind while on charter.
Azimut's Storied History in Italian Shipbuilding
Azimut was founed in 1969 by Paolo Vitelli, but originally, the company specialized in sailboat charters. In fact, they didn't begin producing their own yachts for about 20 years.
In the 1970s, Azimut expanded into yacht design, developing its unique design language – athletic, chic and upscale. In 1970, for example, Azimut partnered with Ameri-glass, a Dutch shipyard, designing the AZ 43' Bali, a yacht that earned great acclaim.
In the mid-1980s, Azimut acquired Benetti and began producing its own luxury motor yachts. In the last three decades, Azimut has produced some of the world's most revered yachts.
Currently, the Torino-based company's range includes: sports cruisers, flybridge yachts and superyachts. The Grande Collection – its 27-, 30- and 35-meter vessels – feature the best of the best in megayacht design, with sporty exteriors and luxurious interiors.
Azimut Yachts: Top Yachts for Charter
No matter the yacht, if it was built by Azimut, you're in for a treat. The company's unique approach to interior and exterior design ensures a comfortable, airy, and sun-soaked ride. A few of popular Azimut yachts for charter include:
Azimut 116 – Motor yacht VIVERE is a 116-foot Azimut yacht with a sleek profile and chic interior. The yacht features an abundance of deck space, including a spacious aft deck with room for alfresco dining, as well as accommodations for up to 10 guests.
Azimut 103S – Duke is a 103-foot flybridge-style yacht built in 2010 (and refitted in 2015). Featuring a sun-soaked aft deck and boutique-hotel inspired main salon, the yacht offers the ultimate in stylish comfort.
Azimut 100 – Motor yacht Intervention is a semi-custom version of the Azimut 100. With exterior styling by acclaimed naval architect Stefano Righini, the yacht features beautiful teak decks, with an al fresco dining space on the aft deck and well-appointed interiors.
Azimut Yachts: Signature Features
From their Euro-inspired designs, to their fashionable interiors, Azimut yachts provide charter guests with a unique experience. But what exactly is Azimut's signature? Here are a few charter guests will notice:
Italian Style – Throughout its history, Azimut has introduced some of the most inspiring exterior designs in the industry. Azimut speaks its own language – this is high-fashion on the high seas.
Custom Interiors – Azimut works closely with owners to personalize the interior, and the shipyard is well-established for utilizing high-end amenities and materials. Beyond classic interior style, Azimut yacht interiors are bathed in natural light, as well as feature spacious staterooms and common areas.
Generous Deck Space – Azimut yachts tend to feature inter-connected decks, with an abundance of space for relaxation and entertainment.
High Performance – Thanks to innovative planing hull design, stabilizers and powerful dual diesel motors, Azimut yachts deliver soft and smooth sailing with plenty of get-up-and-go.
Interest in chartering an Azimut Yacht? Contact your charter broker with Worldwide Boat today to learn more.