Charter yachts are known for offer the best in first-class travel. Wake up each morning in your own private stateroom, and take in the sunrise over the Mediterranean, Caribbean or Adriatic, while a member of the crew brings you a freshly brewed cup of coffee.
Doesn't get better than that, right? Not to mention, superyachts are laden with amenities, from water toys, to immaculate interiors, and sun-soaked decks, perfect for relaxing. Yet, there's one feature that's available on only a select group of charter yachts: Helicopter pads.
A yacht with a helicopter deck opens up a world of travel possibilities. Arrive on your yacht at sea, take a stunning helicopter tour of a nearby wildlife refuge or glacier, or skip the tender on your way to the airport – those are all possibilities aboard a yacht with a helipad.
Super Yachts with Helicopter Pads
Technically, superyachts are fully crewed boats that measure 24 meters or longer (that's just about 75 feet). That definition doesn't reflect the times. Superyachts have gotten larger and more opulent than ever, with designers pushing the bounds of what's possible.
Naturally, yachts with helicopter decks tend to be larger – north of 200 feet. These larger-than-life yachts are some of the most exclusive charter superyachts with helipad access:

SOLANDGE
Length: 279 feet
Cost: From €1,000,000 per week + expenses
Cruising Grounds: Mediterranean
The beautiful Solandge is one of the most unique yachts on the market today. Her interior, for example, the work of Rodriguez Interiors and Dolker & Voges, features countless design surprises. The main salon is a stunner. It's decked out with amethyst walls, gold leaf ceilings, a Bechstein piano and Schonbeck chandeliers with hanging amethyst rose quartz crystals. Yet, the centerpiece is an art glass sculpture, "The Tree of Life," that stretches 50 feet high and is bedazzled by 1,000+ points of light.
Outside, Solandge shows her sheer size. She boasts a sexy beach club, a gold and white bar, a spa pool and a dance floor, among other opulent luxuries. Of course, you'll find the helipad outdoors, too, as well as a sprawling sun deck and lounge. The yacht is maintained by a crew of 29 and can accommodate 12 guests in eight large cabins.

LEGEND
Size: 253 feet
Price: From €455,000 per week + expenses
Cruising Grounds: Mediterranean (summer) / Antarctica (winter)
Originally built by Icon in 1974, Legend underwent its most recent refit in 2016. The ship isn't a traditional motor yacht. Rather, she's a fully certified Class 1 ice-breaking ship, and more recently has been turned into a luxury explorer yacht.
Legend is definitely one-of-a-kind. Inside and out, she offers the best in luxury yachting. The ship accommodates up to 26 guests – in total luxury – in her 13 staterooms. There's a master suite, two VIP suites, as well as 10 different staterooms.
The yacht is built for exploration. In addition to her commercial helipad, Legend features her very own submarine. Plus, adding to the undeniable allure is a gym, Balinese spa and sauna, a Jacuzzi, a movie theater, and a swimming pool. Legend is maintenance by a crew of 19, as well as a 10-member expedition crew, including doctors, ice pilots, expedition leaders and naturalists.

NAIA
Size: 241 feet
Price: From €525,000 per week + expenses
Cruising Grounds: Mediterranean (summer) / Caribbean (winter)
NAIA was built by Freire Shipyard in 2011, and she offers an abundance of space for relaxing and entertaining. Spread across four decks, the yacht has six guest suites and a master suite, the latter of which takes up the entire "penthouse" level and includes a private deck. A central spiral staircase connects all of the decks, and the master suite is accessible through an elevator that goes as low as the sundeck.
As for the common areas, NAIA has plenty of areas for guests to choose from, including a cinema room. The main saloon is both inviting and intimate, with ultra-comfortable plush couches and a chic contemporary décor. A dining table can seat up to eight people, and is surrounded by a smaller sitting area, a small bar and plenty of artwork. Outside, charter guests onboard will find casual seating and bar areas, al fresco dining, another bar, a Jacuzzi, and plenty of places to sunbathe.

CLOUDBREAK
Length: 238 feet
Price: From €750,000 per week + expenses
Cruising Grounds: Caribbean
Built by Abeking & Rasmussen in 2016, Cloudbreak is a truly world-class expedition yacht. The exterior design of Cloudbreak is the work of Espen Oeino, and the Scandinavian-inspired interior design was completed by Paris-based Christian Liaigre. After undergoing four years of development, this custom-built mega yacht is finally on the market, and it offers a world of adventure.
In addition to her helipad, the yacht has a fully stocked garage of water toys, including scuba equipment, jet skis, and numerous kayaks, paddle boards and kite surfing rigs. Inside, though, the yacht is a show stopper. With accommodations for up to 12 guests, as well as amenities like a spa with sauna, swimming pool and beach club, Cloudbreak is designed for relaxing excursions.

ENIGMA XK
Length: 234 feet
Price: From €275,000 per week + expenses
Cruising Grounds: Antarctica / South America
Enigma XK was first built by Richards Shipbuilders in 1987, and last refit in 2013. Previously named Norna, this yacht is the work of Vitruvius and Philippe Briand, who completed its interior and exterior design, respectively.
The sleek interior is marked by cream and white tones, light woods, lit flooring, and a glamorous aesthetic. There is a full-scale wellness and fitness center onsite, and this boat was named "Best Yacht Conversion" winner of The World Superyachts Award in 2014. Perfect for adventuring through ice-filled waters, Enigma XK offers plenty of toys for exploring, including a 9-meter Limo tender, an R.I.B. tender, a rescue tender, two Zodiac tenders, multiple wave runners, SCUBA diving and snorkeling equipment, a dive compressor, water skis, a wake board, tow toys, inflatable pontoons and more.

SURI
Length: 208 Feet
Price: From $350,000 per week + expenses
Cruising Grounds: Tahiti and Fiji
SuRi was built by Halter Marine/Yacht Escort Ships International in 1978, and later refit in 2016. An ideal yacht for travel with family and friends, SuRi is the brainchild of its owner. Its décor is both comfortable and contemporary, with expansive cabins and elegant living areas. Plus, the yacht boasts a fitness center, a massage room, and even a "Windows to the Sea" section of the yacht, where travelers can get a glimpse of all of the colorful fish swimming around them.
Outside, guests can dine al fresco on the sun deck, relax in the Jacuzzi, sunbathe, or enjoy a sunset cocktail in front of a backdrop of amazing views. If you're a more adventurous charter guest, the water toys onboard SuRi won't disappoint. In addition to the helipad, there are bikes, snorkel equipment, surfboards, kayaks, fishing gear, diving equipment and even a 35-foot Stan-Craft mahogany speedster. On SuRi, the choices are endless.

O'PTASIA
Length: 278 feet
Price: From €800,000 per week + expenses
Cruising Grounds: Mediterranean
Built in 2018 by Golden Yachts, O'Ptasia is a stunning superyacht that features a wide array of world-class amenities. The yacht features a high-end contemporary aesthetic inside, including sleek and spacious salons and expertly appointed guest staterooms. She accommodates up to 12 in 11 rooms, including a master suite, VIP stateroom, as well as a variety of double and twin cabins.
Her exterior is a masterpiece of nautical engineering. Featuring expansive decks, including a sizable beach club and breezy sun deck, the yacht is a floating five-star hotel. You'll find all of the amenities onboard: A spa, an outdoor bar, sun deck Jacuzzi and much more.

PLANET NINE
Length: 204 feet
Price: From €650,000 per week + expenses
Cruising Ground: Mediterranean
The ice-classed explorer yacht Planet Nine was built in 2018 by Italian shipyard Admiral Yachts. Built for explorations in the far corners of the world, no expense was spared on her construction. Inside, the yacht is the epitome of opulence.
Designed by London-based Milnaric, Henry and Zervudachi (MHZ), the superyacht has a full range of luxury amenities: Modern staterooms, including a master suite that takes an entire deck, a panoramic observation deck, and an immaculate dining area.
Yet, the ship is certainly designed for exploration. Outside, the yacht's most recognizable feature is the helipad, which features a garage just below. Additionally, you'll find everything on board for a high-seas adventure, including two 32-foot tenders, 120-inch cinema, steam room, sauna and a spacious beach club.
Charter Yachts with Helicopters
Looking for something a bit more compact? It's true that a 200+ foot yacht isn't for everyone. Fortunately, if you'd like to charter a helicopter-equipped yacht, there are plenty of options in the 130- to 200-foot range. Here are a few of our favorites:

SKYFALL
Length: 190 feet
Price: From $275,000
Cruising Grounds: Caribbean
With sleek exterior styling and a timeless interior, Skyfall offers the best in Caribbean yachting. The yacht was built in 2010, but underwent a complete refit in 2015. Today, she's gorgeous inside and out.
Her interior features an "urban contemporary" aesthetic, with notes of Buddhist Zen, and you'll notice when you step on board. Featuring an array of unique materials, including petrified tree trunks as well as a Tiger's Eye bar in the sky lounge, the yacht is designed for entertaining (with space for up to 12 guests).
Outside, Skyfall offers plenty of deck space. Her sun deck features a splash pool, and there's space for alfresco dining on the aft deck, a beautiful skylounge, and a panoramic balcony.

TOMMY
Length: 170 feet
Price: From €140,000 per week + expenses
Cruising Grounds: Mediterranean
Tommy is a luxury motor yacht built by Benetti in 1995. It underwent its last refit in 2014 and boasts an interior and exterior design by Terence Disdale and Stefano Natucci, respectively. This yacht is large enough to host a cocktail party for up to 100 guests.
The interior of Tommy is both elegant and classic, with cream and burnt orange tones, and light wood cabinets and paneling throughout. The main salon is large and comfortable and comes with plush sofas and impeccable décor. There is a formal dining area, as well as a club-style sky lounge with a games table and a flat screen TV.
Outside, guests will find spots for alfresco dining, a sun deck, multiple bar areas, a central spa pool, multiple sunbeds, and of course, the helipad. From the swim platform, guests have access to countless water toys, including: a 5.8-meter Novurania Tender, a 5.8-meter Novurania Tender, two two-person Kawasaki Wave runners, water skis, a wakeboard, tows and plenty of snorkeling gear. Tommy can accommodate up to 12 guests.

TRUE NORTH
Length: 164 feet
Price: From $490,000 per week + expenses
Cruising Grounds: Australia, Tahiti, Thailand
True North offers the ultimate oasis of luxury for your Australia or Southeast Asian expedition. The yacht, which was built in 2005, is fully equipped for explorations. She features six tenders, as well as her own Eurocopter EC 130 helicopter.
On-board, the experience is incredible. True North features a spacious layout, with accommodations for up to 36 guests. The yacht includes 18 rooms, including 10 double cabins and 8 twins, and she's designed for fun exploring the Great Barrier Reef. You'll find a variety of water toys and equipment including: Dive compression, dive equipment, a jet ski, and plenty of fishing gear.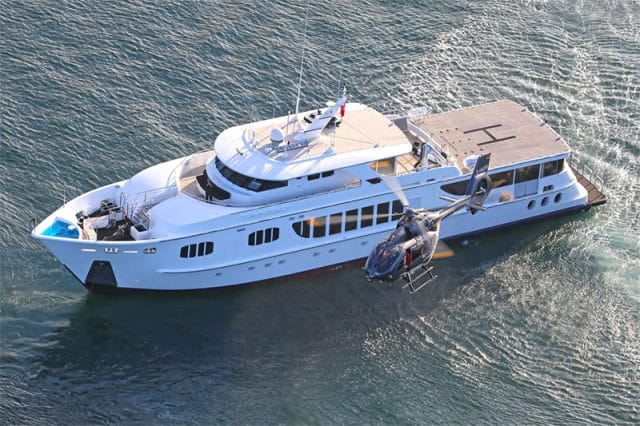 TANGO
Length: 139 feet
Price: From $180,000 per week + expenses
Cruising Grounds: Australia
Built in 2006, Tango is a luxury superyacht that charters primarily in Australia. With accommodations for up to 8 guests, Tango offers complete comfort on the open seas. The yacht features a deck Jacuzzi, as well as beautiful sun deck.
Looking to enjoy the waters? Tango offers a full array of water toys including a jet ski, paddleboard, kayaks, fishing equipment and snorkel gear. She's also equipped with two tenders, and of course, the helipad.
Smallest Yacht with Helicopter Pad
An on-board helipad traditionally means a spacious yacht. Yet, there are a number of boats that accommodation copters, but have a smaller footprint. If you're headed out with a small group, but want the luxury of a helipad, these yachts are perfect:

FLYING FISH
Length: 106 feet
Price: From $62,000 per week + expenses
Cruising Grounds: Australia
They say big things come in small packages, and that's certainly true of Flying Fish. This yacht – built in 1991 and refit in 2010 – offers the perfect platform for small-ground adventures. She sleeps up to 8 in four rooms, including a stunning master suite. And her interior features a chic, upscale décor and plenty of deck space for entertaining.
Plus, the yacht's wide array of toys including scuba equipment, snorkeling gear, fishing equipment and sea kayaks. She's equipped with a fully certified helipad – perfect for a low-key Barrier Reef excursion.
Go Back to the Blog