Ready to embark on Andaman Islands yacht charter? Now is the time to go! The India government recently eased travel restrictions to this lush tropical archipelago, which is located 450nm from Phuket.
This is great news for the yacht charter industry. With the restrictions released, no longer do superyachts have to leave every 30 days and carry multiple entry visas. Yacht charter guests and crews can now stay as long as they'd like. Additionally, traveling to these islands becomes much easier, without required daily check-ins and other tedious requirements.
So, what does this development mean for Andaman Islands yacht charters?
For one, more and more charter yachts plan to operate in the pristine Andaman and Nicobar region, providing a wider selection of superyachts for hire. Plus, charter costs may fall slightly, as the restrictions are eased, and visitors now have nearly unrestricted access to 29 islands, including Havelock and Curfew islands, as well as 11 uninhabited islands.
In short, there's never been a better time to travel to the Andaman Islands. Thanks to the easing of the regulations – which Indian authorities hope will boost tourism in the region – visitors can now explore the numerous white-sand beaches, tropic rainforests and encounter the region's exotic wildlife without jumping through as many legal hoops.
Interested in chartering a super yacht in the Andaman Islands? This destination will certainly become more and more popular as it's discovered, and we wanted to highlight some of the region's must-see and must-do attractions.
Andaman Yacht Charters: Getting There & What to Expect
The Andaman Islands are located in the Bay of Bengal, west of Bangkok and northwest of Phuket. The islands have long been a destination for sailors from Thailand and those traveling to the Red Sea, and they're fairly easy to reach by plane.
Commercial flights from the Indian mainland are available through Air India and Jet Airways, and the flights take about two hours from southern Indian hubs. Charter flights out of Bangkok are another popular option. All flights land in the region's capital of Port Blair, a bustling city on the largest island South Andaman. Once arriving in the islands, here's what to expect:
Temperatures: The region has a mild tropical environment, with breezy temperatures in the 70s and 80s throughout the year. April is the warmest month, with temperatures regularly in the low-to-mid 80s.
Water Conditions: Water temperatures are beautiful throughout the year – typically in the low-80s. Plus, Port Blair's harbor is one of the safest in the world, and during the dry season, the waters stay relatively calm, with 2- to 3-foot swells.
When to Go: The dry season runs from December to April, which is the most popular time for charters. During the wet season – May to November – charters are available, as well, but daily rain showers are common.
Where You Can Go: The archipelago is home to some 400+ islands, and the new rules allow unrestricted access to 29 islands, including Havelock, East and Curfew islands. Visitors can also stay 24 hours on 11 uninhabited islands.
Beautiful Beaches, Exotic Wildlife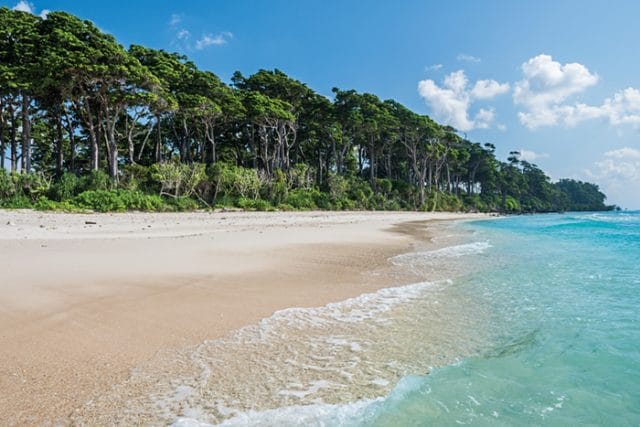 The Andaman Islands are very biodiverse and home to many unique landscapes. From the white-sand beaches (including one with a resident population of elephants), to the stunning rainforests and coral reefs, the Andamans provide visitors with a chance to experience the exotic, up close and personal.
Whether you'd like to relax in a hammock, or strap on your boots for a rainforest trek, there is plenty to do and explore. A few highlights include:
Beaches – The unspoiled beaches of the Andamans are some of the most stunning in all of Southeast Asia. The majority are uncrowded – in fact, yachters often have entire beaches to themselves – and beautiful turquoise waters provide incredible swimming and snorkeling opportunities. A few must-visit beaches include Elephant Beach on Havelock Island, a beautiful white-sand beach with occasional visits from native elephants, Radhanagar Beach, one of the most picturesque, and Laxmanpur Beach, the best for shell-hunting.
National Parks – Mahat Gandhi National Park is located in the Andamans, and covers several islands in the region. Jolly Buoy Island is a favorite destination in the park, where visitors can explore the surrounding jungles, pristine beaches, and well intact reefs. Mount Harriet National Park is located just across the harbor from Port Blair, and it's another favorite for jungle treks.
Fishing – The Andaman Islands' fish stock has never been disrupted by commercial fishing. As a result, it's a favorite destination for sport fishermen. The main species include Giant Trevally, Dog Tooth Tuna, Marlin and Yellow Fin Tuna. The fishing is great around Port Blair, as well as the islands reefs, and sport fishing regularly yields 20- to 40-pound fish.
Coral Reefs – Nearly every island is protected by barrier reefs, which are abundant in marine life. Schools of exotic fish, whales, dolphin, sea turtles and numerous game fish species can be spotted while chartering in the Andaman.
Rainforests – Many of the islands' evergreen rainforests offer excellent trekking opportunities. Popular trips include trekking up to Mount Harriet, which is located on South Andaman Island, the jungles around Elephant Beach on Havelock, and Saddle Peak on North Andaman.
Water Sports Galore

With water temperatures a balmy 80 degrees year-round, the Andamans are the perfect destination for those who love the sea. Your itinerary will include numerous water-going activities, from snorkeling to surfing.
Really, there's something for everyone. A few of the most popular include:
Snorkeling – Nearly every island offers prime snorkeling spots, as each are protected by coral reefs. The region's corals are beautiful and rich with sea life. Turtles and colorful fish are regular sights! The turtle sanctuary on Neill Island is a favorite destination, as are the islands of the Mahat Gandhi National Park.
Diving – If you love diving, you'll find plenty of opportunities in the Andamans. The Big Four dive spots are musts for divers. They include Minerva's Ledge – which was discovered in 1970 by Jacques Cousteau, the famed nautical explorer – and is home to numerous species including Eagle Rays and Green turtles. Other spots include Dixon's Pinnacle and Jackson's Bar.
Surfing – The Andaman's west coast is a favorite surfing destination. In March, April and May, southern storms create giant swells all along the coast, providing perfect breaks for surfers. Many choose to explore the Twin Islands, where surfers often have the waves to themselves, although areas around Point Blair are also favorites.
Kayaking/Paddle Boarding – The calm conditions around many of the islands are perfect for paddlers. Not to mention, the turquoise waters are stunning! There are numerous places to explore, including mangrove creeks, inlets and limestone coves.
Top Destinations on Andaman Yacht Charters
From Port Blair, yacht charters can reach many of the region's top destinations in as little 1-2 days. There are incredible sights and destinations to explore along the way. A few must-see spots include:
• Cellular Jail National Memorial – Located in Port Blair, the Cellular Jail was a formal penal colony, and now serves as one of the region's best museums. This sprawling complex has incredible views, and the architecture is wonderful.
• Beach No. 7 – Radhanagar Beach – Named one of the best beaches by TIME, Radhanagar is stunningly beautiful and a must-see destination on Havelock Island. This is what a tropical beach should look like!
• Mount Harriet National Park – This national park is located on the west coast of South Andaman, and it offers some of the most pristine trekking trails in all of the region. If you want to ride elephants through the jungle, this is the place to do it.
• Anthropological Museum – The Nicobar Islands are home to some of the world's most isolated cultures. In the remote corners, some tribes have not yet been contacted by the modern world. The Anthropological Museum in Port Blair provides an overview of this rich cultural history.
• Baratang Island – Barantang is home to numerous limestone caves, perfect for an afternoon exploration. Plus, nearby Parrot Island, known for its squawking population of tropical birds, is another must-see.
• Neill Island – Neill Island might be one of the most naturally beautiful in the entire archipelago. Laxmanpur Beach is a favorite destination here, as is the Howrah Natural Bridge, a freestanding limestone arch.
• Cuthbert Bay Wildlife Sanctuary – Cuthbert is home to a green turtle sanctuary, and the waters around Cuthbert Bay Beach are teeming with turtles. Not to mention, the beaches are typically uncrowded, the perfect place for a relaxing afternoon.
• Great Nicobar Island – The heavily forested Great Nicobar is the largest in the Nicobar chain, and visitors have numerous activities to partake in, including trekking, river kayaking, and beach combing.
• Ross Island – Ross Island offers an opportunity to explore the ruins of a penal colony, as well as the nearby Barren Island, one of the region's only active volcanos.
Plan Your Escape to the Andamans
The Andaman Islands are one of the most breath-taking destinations in all of Southeast Asia. From the beaches, to the rainforests, to the incredible climate, this corner of the globe offers a secluded escape unlike anywhere else in the world.
Plan your Andaman Island yacht charter now. Contact your charter broker with Worldwide Boat to learn more about this one-of-a-kind destination and the incredible luxury yachts available for charter here.
Go Back to the Blog