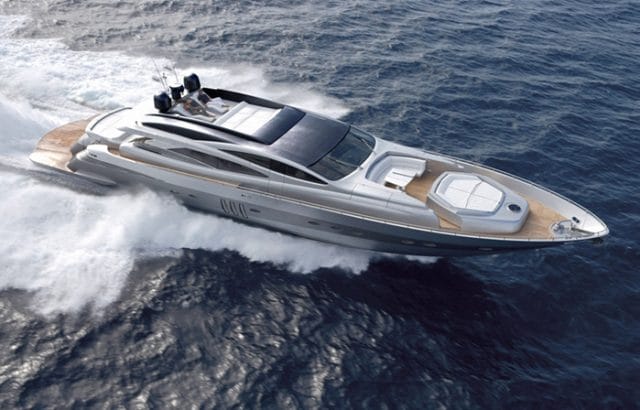 The thrill of high-speed cruising aboard a superyacht is exciting. Cutting through the water like a knife over butter – there's nothing quite like it in the world. But what exactly is considered a fast superyacht? Is 25 knots fast? Or is the benchmark closer to 40 knots?
If you're looking for high-performance yachts, chances are they're Italian made. Italian yacht builders have a reputation for designing superyachts that are ultra-lux and built for high-speed motoring.
Just look at the entries on our list. Almost all are Italian-built and feature top speeds of 40+ knots (that's about 47 miles per hour), which is an impressive feat considering almost all are over 100 feet. Here are the 10 fastest charter yachts in our portfolio:
1. MY TOY

A sleek, streamlined cruiser, MY TOY packs in the power. Featuring a trio of 2,400 horsepower engine, MY TOY tops out at 41 knots, with an average cruising speed of 27 knots. This makes sense. The boat was built by AB Yachts, an Italian yachtbuilder known for its water jet propulsion and high-performance cruisers.
Not only can you enjoy the thrill of high-speed cruising aboard this 140-footer. The yacht also features an array of water toys, including standup paddle boards, jet skis and wake boards, along with two tenders.
Plus, MY TOY's Euro-inspired interior delivers the comfort of a floating luxury hotel. The five cabins accommodate 12 guests comfortably, in spacious staterooms, as well as plenty of space in the saloon and lounge to entertain.
2. BEACHOUSE

With a name like BEACHOUSE, you might expect a relaxed, laid-back cruising vibe. But don't let the name fool you. This 130-foot superyacht flies through the water at about 30 knots, and can top 40 knots. The good news: The yacht's planning hull delivers a smooth-as-butter ride.
Like the name suggests, BEACHOUSE is wrapped in a classic Hamptons vibe, i.e. stark white furnishings, airy and well-lit interiors, modern art appointments, and spacious, built-for-relaxation salons. Bottom line, this floating beach house is built for comfort as much as performance.
3. MUSA

Another high-performance cruiser from AB Yachts, MUSA was built for speed. The 118-footer features three MTU 16V 2,400-horsepower motors, which deliver an impressive top speed of 47 knots. (The fastest on our list.) MUSA comfortably cruises at about 40 knots – another impressive feat.
True to the AB name, MUSA also features a classic Italian-inspired interior. The boat's five cabins are wrapped in sleek stylings, including wood-veneered and fiberglass appointments. The interior's also feature spacious, ultra-comfortable staterooms, a luxurious main salon, and gorgeous dining spaces.
4. SHOOTING STAR

SHOOTING STAR moves like its namesake, and you'd expect that on first glance. The 116-foot yacht resembles a floating Porsche, with a sleek cruiser profile. And it delivers on that promise. The Pershing-built yacht is designed for high-quality performance.
Powered by dual MTU V16 4000 Series engines, SHOOTING STAR flies through the water at a comfortable 25 knots. Looking for a bit more speed? The yacht tops out at up to 35-40 knots, and its unique planing hull design delivers an ultra-comfortable ride.
Pershing – a Ferretti Group brand – is well-known for its performance-minded, luxury motor yachts. And SHOOTING STAR is the epitome of the Pershing mission. Not only does it deliver a thrilling cruising experience, the yacht's interior offers charter guests the ultimate in luxury hospitality.
5. TOBY

Toby comes from the Cerri FlyingSport line of luxury motor yachts, and that means one thing: Impressive performance. Featuring dual MTU 2,400 horsepower diesel motors, as well as Arneson propellers, Toby cruises comfortably at 32 knots – with top speeds of 37-40 knots.
Inside, the yacht has been designed for ultra-comfort – this is a floating vacation home. The main salon, for example, features a large satellite TV, as well as a library and modern furnishings. Plus, the 103-foot yacht's five suites accommodate 10 guests in style.
6. ASTRO

From builder Baia, comes ASTRO, a high-performance cruiser, wrapped in high-end finishes. This boat was built for fast cruising. Featuring a trio of MTU 2,400 horsepower engines, ASTRO moves like a comet, with a cruising speed of 42 knots. And thanks to the yacht's Zero Speed stabilizer, the ride is as smooth as can be.
When you're not cruising, guests can enjoy ASTRO's impressive array of water toys. You'll find SEABOBs, waverunners and jet skis onboard. Plus, the yacht's interiors deliver ultimate comfort. Featuring four cabins and ample space for up to 10 guests, ASTRO's airy, well-lit and spacious interiors are ideal for cruising in style.
7. RG 512

Since the 1970s, Leopard Yachts has been producing high-end, performance motor yachts. And RG 512 is the perfect example of the Italian builder's commitment to excellence. Featuring three MTU 1800-horsepower motors, RG 512 reaches a comfort cruising speed of 30 knots, with top speeds up to 36 knots.
Aboard, you'll find plenty of water toys to entertain, including a 255-horsepower Sea-Doo. After a long day, relax in RG512's comfortable interior, which features 4 staterooms wrapped in a contemporary chic design.
8. KAMBOS BLUE

An Italcraft- built yacht, KAMBOS BLUE tops out at 40 knots, thanks to its dual MTU 2400-horsepower motors. This 101-foot yacht was built in 2007, and has a classic, clean-lined Italian cruiser profile. In fact, KAMBOS BLUE might be the sleekest yacht on the list.
Inside, KAMBOS features a bespoke interior, featuring four suites that accommodate up to 9 guests. The interior's mix of hardwood finishes and contemporary furnishings create a timeless style.
9. GISSI

From Azimut, an Italian-based builder of high-end sedan cruiser luxury yachts, comes GISSI. This 91-footer is built for motor yacht performance, with a cruising speed of 25 knots. Overall, GISSI tops out at 38 knots.
Her interior is decidedly Euro-inspired, and features spacious staterooms and a luxurious main salon. The yacht features 4 suites with accommodations for up to 8 guests.
10. SOLARIS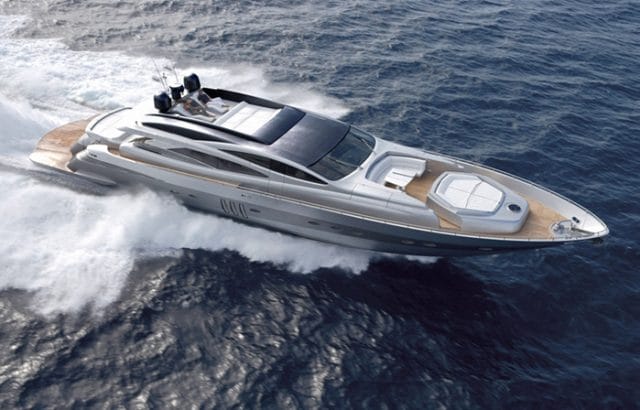 SOLARIS – another Pershing creation – has the look of a high-performance cruiser. Featuring a black profile, SOLARIS resembles a floating supercar, and thanks to dual MTU 2,435-horsepower motors, SOLARIS cruises comfortably at 33 knots.
What's more: You'll find plenty of toys in SOLARIS's garage: Scuba gear, SEABOBs, a Sea-Doo, water skis, wakeboards and kneeboards. Featuring a modern contemporary interior, this yacht accommodates up to 10 guests in four high-end suites.
Charter a High-Performance Superyacht on Your Next Escape
The thrill of high-speed cruising aboard a luxury superyacht is indescribable. It's something everyone should experience first-hand. Island hop in style aboard one of these high-speed yachts on your next adventure. Contact a Worldwide Boat brokers today to learn more.
Go Back to the Blog