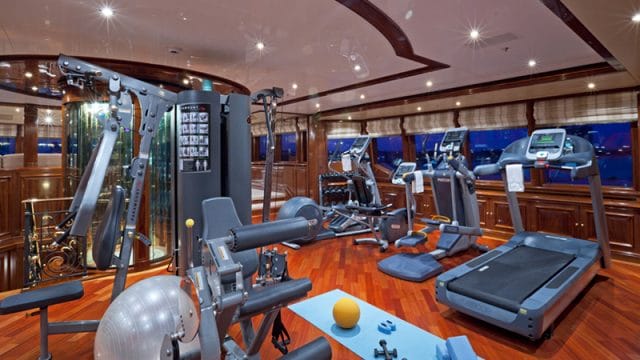 The on-board gym is one of the most popular amenities on charter yachts. Today, charter yachts of all sizes – from 2-cabin boats, to superyachts – are repurposing spaces into gorgeous and functional gyms for active guests. Which yacht gyms are the best?
Well, it's difficult to compare yacht gyms, because there's just such a wide array of what's available. You'll find single-machine fitness studios, all the way up to large, fully-equipped gyms (that include unique touches like Jacuzzis and massage tables).
Of course, yacht designers have to battle space limitations when designing gyms. Plus, on-board gyms have to be functional, allowing equipment to operate in salty conditions and when the boat is moving. Fortunately, designers continue to be clever – and they're developing attractive, wholly unique and super-functional workout facilities for fitness-loving charter guests.
Bottom line: If you're a charterer who never wants to stick to your workouts, you're in luck. From gyms with panoramic views, to state-of-the-art facilities, here are 10 of the best on-board yacht gyms:
1. O'Mega

The 270-foot O'Mega is like a floating 5-star resort. Her interiors are wrapped in classic, high-end aesthetics, including marble flooring and an extensive collection of original artwork. Plus, the superyacht is designed to accommodate large groups – up to 30 guests – with spacious salons, sun decks and a beach club.
But the yacht's gym is a stand out. Along with a wide selection of high-end equipment, including treadmills and freeweights, the gym also shares space with a state-of-the-art Home Cinema. Watch your favorite movies in surround sound, while you break a sweat.
2. Mogambo

From German shipyard Nobiskrug, comes this 241-foot stunner Mogambo. Designer Reymond Langton has created a calm, contemporary interior for the ship, which includes floor-to-ceiling windows, elegant finishes, and ample deck space.
The yacht – which was refit in 2016 – also features a complete Technogym fitness center. Options include free weights, dumb-bells, a treadmill and a crosstrainer. Looking for a more calming workout? The gym is also fully equipped for yoga sessions. Then, after you're done, relax in the steam room or spa.
3. Cloudbreak

CLOUDBREAK is paradise for the adventure and fitness lover. The yacht – which was built in 2016 – was designed as a floating mountain chalet, replete with one of the most extensive collection of water toys in yachting. Spend your days exploring, and then retire to CLOUDBREAK's comfortable, spacious and elegant interior.
The yacht's gym is also just as sophisticated, and features an array of commercial –grade exercise equipment. Options include free weights, punching bags, kettle bells and medicine balls. Plus, the gym features dual spin bikes, a treadmill and ballet barre. (And we should mention: The view from the gym's drop-down terrace is stunning.)
4. Sherakhan

A classically styled yacht with ample space for up to 26 guests, SHERAKHAN underwent a recent refit, and the result is absolutely impeccable. The 228-foot superyacht's interiors are now wrapped in chic, luxury finishes, and there is plenty of deck and interior space for entertaining (like the 22-person dining room or 18-person Jacuzzi).
One thing that sets SHERAKHAN's gym apart: It features a small Jacuzzi of its own. Relax in the spa after a strenuous workout. Plus, you'll find an exercise bike, elliptical trainer, and treadmill, as well as yoga and Pilates equipment.
5. Force Blue

Force Blue – a 207-foot yacht that was refit in 2009 – delivers an impressive luxury yachting experience. The yacht's interior offers ample space for up to 12 guests, as well as luxury finishes and spacious staterooms. Plus, the amenities include a cinema room, spa, and RYA approved water sports centre.
The yacht's below-deck gym offers a complete equipment array for fitness enthusiasts. Options include a treadmill, rowing machine, weight machines and exercise bikes. It's the perfect space for a quick workout while on charter.
6. Lady Britt

The 206-foot LADY BRITT offers the ultimate in luxury yacht design. Wrapped in a Hamptons Beach House aesthetic, the superyacht features a range of premium amenities like an on-board wellness spa, an authentic Finnish sauna, and spacious staterooms.
The ship's gym, though, might just offer the best views in the yachting industry (from a gym, of course). The fitness studio overlooks the sun deck, with floor-to-ceiling windows offering panoramic views. Plus, the fitness center is completely equipped with Technogym equipment, including an elliptical, treadmill, free weights, and an exercise bike.
7. Apogee

With the air of a 5-star resort, Apogee delivers the ultimate in luxury charter yachting. The 205-foot yacht features it all: Franco & Anna Della Role-designed interiors, a spa, luxury mahogany finishes, and plenty of deck space.
Yet, the gym might be one of the most advanced. Apogee's fitness center features an array of commercial-grade equipment, like Life Fitness cycles and treadmills, an elliptical station, a variety of weight machines, and free weights. And the gym is situated on Apogee's sky deck – providing incredible views.
8. 4You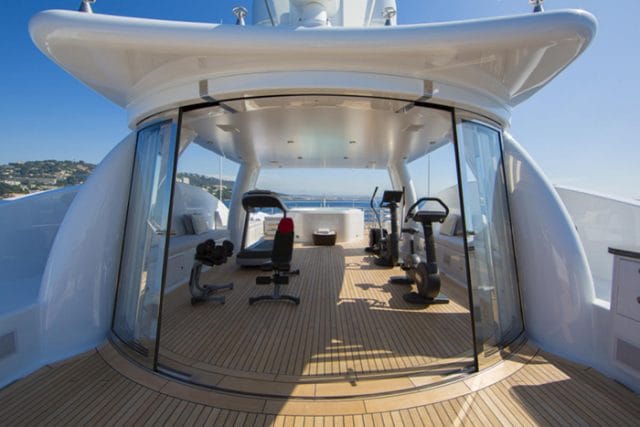 The 180-foot, 6-cabin 4YOU is a sophisticated, floating oasis. Built in 2012, the superyacht provides unique spaces for entertaining guests, like the piano bar in the sky lounge. Plus, with a massage and steam room, beach club and ample deck space, the yacht is perfect for relaxing with friends and family.
What makes 4YOU's gym unique? The gym's sun deck location – overlooking the Jacuzzi – provides panoramic views. Plus, the gym is well-equipped with a range of high-end commercial equipment, including a treadmill, excerise bike and Bowflex SelecTech adjustable bench and dumbells.
9. Cheers 46

Cheers 46 offers impressive size and comfort for a 140-foot yacht. The Benetti-manufactured ship includes a sprawling sun deck, a large beach club, and comfortable staterooms for guests.
The yacht's gym is also one of the largest for a yacht of her size, spanning the full beam, and features four treadmills, a bench press, a squat press and a massage table. Yet, one feature that makes the gym unique: It's equipped with a fold-down terrace that provides incredible views.
10. Ouranos

Named the "Most Silent Yacht" in its class in 2016 by the RINA Classification Society, OURANOS is a classically styled yacht that sleeps 12 guests comfortably. The yacht offers amenities like a deck Jacuzzi, an array of fun water toys, and comfortable, spacious staterooms.
Yet, the yacht's gym – situated at water level – provides panoramic water views, as well as dual swimming platforms that drop down. Work some swimming into your on-board workout. Plus, OURANOS features a range of state-of-the-art Technogym machines, as well as Stott Pilates accessories.
Let Worldwide Boat's charter brokers help plan your next yacht charter get-away. Contact us now to learn about your options.
Go Back to the Blog