Cannes MIPIM Yacht Charters
The best place to be at MIPIM is in the Port of Cannes on a luxury charter yacht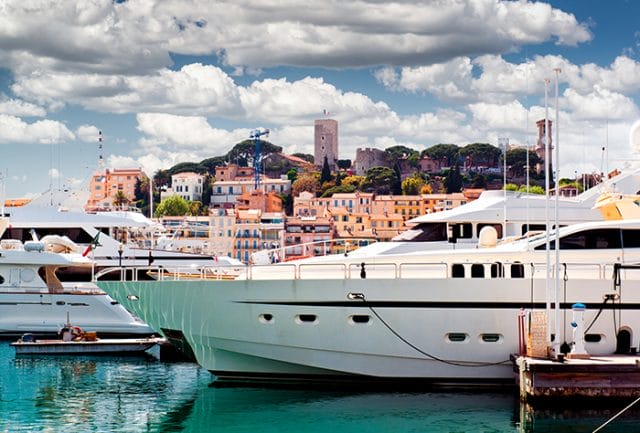 If you're a serious real estate professional, you want to be at MIPIM. As one of the world's leading real estate summits, this annual four-day event gives brokers and developers the opportunity to explore major international property development projects, network with top industry professionals, attend conferences and exhibitions, and conduct lucrative business deals.
Next MIPIM Event: March 12-15, 2019
Over 18,000 property leaders from 81 countries attend MIPIM each year, creating an unrivaled opportunity for investors, end-users, local authorities, hospitality professionals, architects and real estate professionals to meet, showcase and promote projects, gain inspiration, discover promising projects and improve and expand operations.
This premier real estate event attracts the world's leading banks, law firms, investment houses and insurers, and offers unrivaled access to the greatest number of high-caliber development projects worldwide. This event is viewed as one of the most forward-thinking networking events in the world for real estate market professionals.
MIPIM takes place at the Palais des Festivals every year, and attracts influential players from all sectors of the international property industry.
Chartering a Yacht for MIPIM
Taking place in fabulous Cannes, there is no better way to get to MIPIM 2017 than onboard your very own charter yacht. Both convenient and impressive, all yachts are able to anchor just steps away from the Palais des Festivals, and become an ideal place to host meetings, close deals, and wine and dine prospective clients and business partners. Adding to their allure, having your own yacht ensures the utmost in privacy, which can be important when finalizing those critical details of your next business deal.
There are many reasons to incorporate a yacht into your Cannes MIPIM experience. Here are just a few of the best:
First, you can showcase your company. Floating right in the middle of the action, turn your yacht into a brand icon, and you can guarantee tens of thousands of attendees will see it. Should you host a cocktail party or a lavish yacht reception for customers and potential clients or partners (and why wouldn't you?), you won't even have to leave your home. Some yachts can host 200+ guests in port, with DJs, catering, flowing champagne and more to leave your clients and customers more impressed than when they came.
Second, having a yacht is practical. Sure, chartering a yacht is an investment, but considering hotels are hard to come by in Cannes during major events, a yacht is actually one of the best accommodations you can get. Chartering a yacht puts you right in the middle of the show, just a ten minute walk from the Palais des Festivals. You can stay in the Old Port, right next to the Palais, or in Port Canto, just a tad farther (but still in walking distance) and right next to the famed Casino and Cannes raved-about nightlife.