What to Do in Cabo San Lucas
Explore Cabo San Lucas, an A-list vacation destination, on your next Mexico yacht charter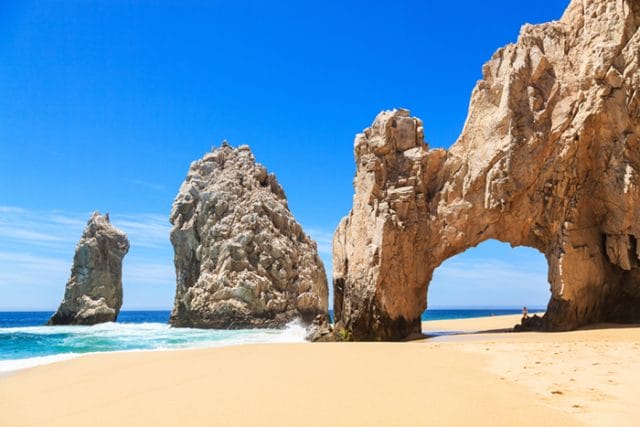 What started as a quiet fishing village, the ultra-luxe Cabo San Lucas has since blossomed into an A-list vacation destination. Now known for its celebrity sightings, beautiful scenery, sun-soaked shores, unparalleled snorkeling, and of course, its unbeatable party scene, Cabo San Lucas is one of the world's most coveted hotspot.
Cabo San Lucas first gained fame in the 1970s, when it became the go-to Hollywood hangout for those looking to escape L.A. Fast forward nearly half a century later, and it's every bit as fabulous as it was then — but on a global scale. Attracting elite travelers from around the world, Cabo San Lucas is filled with sprawling beaches, stunning sunsets, dazzling golf courses and deluxe villas. And it's not just a place to party. As beautiful as Cabo San Lucas is, it's also the perfect place to disconnect. Spend your days at the spa or on the beach, and your nights at a beachside watering hole. The food in Cabo is unbelievable, and it's one of many reasons you'll be begging to go back.
There's plenty to do in Cabo during your next Mexico yacht charter adventure. Try some of our favorite activities, listed below.
Party the night away at Cabo Wabo
Cabo Wabo is a giant complex that brings together huge stages, even bigger names in music, and top bars. It's owned by Sammy Hagar, who is also one of Cabo Wabo's frequent performers, and is where everyone goes for the biggest parties of the year— with or without the rock-and-roll legends you're sure to find there.
Go whale-watching
Just off the tip of Baja, whale watchers will have plenty to see from October through March —when the annual migration of gray whales occurs. During this time of the year, thousands of gray whales swim around the Baja Peninsula, from the Laguna Ojo de Liebre, to Guerrero Negro, and sometimes, even as far as the Sea of Cortez, right by Cabo San Lucas. Many different whale watching tours are available, and can last up to three or four hours. If you don't want to hop on a tour, just look out on the horizon. You're bound to see one coming up for air!
Go nature-watching at El Arco
Cabo's most famous natural feature, the Arch (or "El Arco," to the locals) is part of a formation called the Three Friars — and it looks like its name implies. Making up the peninsula's very southern tip, Land's End, it's surrounded by the Sea of Cortez on one side and the Pacific Ocean on the other. You can take a glass-bottomed boat to get there, and once you do, look for the majestic rocks, pelicans, sea lions, and if you're lucky, even whales. El Arco is like nothing else you've ever seen.
Visit Todos Santos
The small town of Todos Santos, home of the famous Hotel California (The Eagles, anyone?), is just north of Cabo and is definitely worth a visit. The opposite of Cabo, this art-inspired town is as quiet as it is creative. It's close enough to be a day trip from Cabo, but so different that you feel like you've gone to a whole other world. No matter when you go, Todos Santos is the perfect place to rest, refuel and recharge.
Go surfing at Zippers
Most people in Baja love to surf, and for avid surfers, Zippers is the only place to be. Located at Mile 17, on Cabo Corridor, Zippers is a fun place to go, whether you're surfing or just watching others catch a wave. The waves are huge, and only daring surfers should attempt them.