Mexico Yacht Charters
Your Guide to Yacht Charters in Mexico
An oasis of palm-fringed beaches, lush jungles, spicy cuisine, a vibrant nightlife and some of the most hospitable locals around, Mexico is a popular destination for yacht charters — and for good reason. In Mexico, there is a little something for everyone.
Whether you're looking for a relaxing vacation on the beach, a non-stop party, or a chance to explore some of the wildest landscapes, this part of the world has it. And considering how big it is, and how many cities it has worth visiting, we can pretty much guarantee you'll find something about it to fall in love with.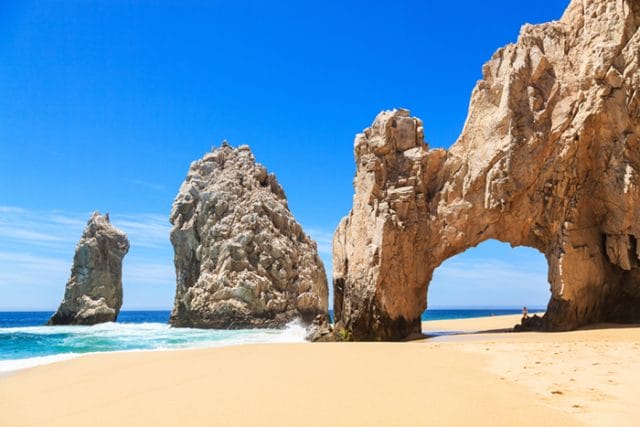 But of its countless areas to explore on private Mexico yacht charters, there are two we love to talk about the most: the Sea of Cortez and Riviera Maya.
The idyllic Sea of Cortez is one of the most fascinating bio-regions in the world, this vast body of water has become a revered tourist attraction. Sail through its azure waters, and you'll find enchanting beach towns, metropolitan cities, and a wealth of protected natural areas that make the land itself look as beautiful as the water lapping on its shores.
Sail south along the west coast of Mexico, around the tip of the peninsula and up the east coast, and you'll find whimsical Riviera Maya: a haven of white-sand beaches, exotic ruins and beckoning sinkholes, called cenotes, that you just might want to jump into. Known for its ancient Mayan traditions, which you'll still get plenty of glimpses of today, Riviera Maya comes alive with vibrant towns like Tulum and Playa del Carmen, busting La Quinta Avenida, and of course, its tranquil Caribbean Sea. See as much of it as you can — everywhere you go on your Mexico yacht charter in Riviera Maya, and Baha California and the surrounding Sea of Cortez will only make you want to see more.
Why Charter a Yacht in Mexico?
Riviera Maya is bursting with history
Once home to the ancient Mayans during 1,000 AD, today, Riviera Maya is an oasis of Mayan ruins. Wind your way through the 13th-century pyramids of Tulum, and find sites like clifftop Castillo, Templo de las Pinturas, and the pyramid-like temples of Cobá. In Riviera Maya, see Mayan descendants still making handcrafted art, painting clay pots, and cherishing Mother Nature like they do their own children.
The enchanting Mexican landscape is as diverse as it is beautiful
Head to Riviera Maya, and you'll discover the Yucatan peninsula; a living testament to Mexico's natural surroundings. Both the Caribbean and Pacific coasts of Mexico are lined with sugar-white sand beaches, and beneath the sea, divers will find the Great Maya Reef; the second largest reef system in the world. Swim through Mexico's caves and cenotes, hike through its steaming jungles and up towering volcanoes, or simply relax on the beach.
At the heart of Mexico, you'll find kind, cultural people
The Mexican people are welcoming and hospitable, and are known for their love of color and frequent fiestas. Centered around deep-rooted tradition, Mexicans are fiercely proud of their beautiful country. They believe in family, celebrations, taking their time, helping each other, entertaining, and honoring Mother Nature.
Best Time for Mexico Yacht Charters
With more than 6,000 miles of coastline, enchanting Mexico is a popular destination for yachts, boating aficionados and cruises alike. And because the temperatures are always warm, it's a great place to charter a yacht all year round.
From the white sands of Acapulco to the Mayan ruins of Chichen Itza, the Yucatan Peninsula, Cabo, Baja and more, Mexico has a little something for everyone. And to make sure you check off all the things on your vacation bucket list, when planning your next yachting escape to Mexico, pick the time of year that works best with your itinerary.
Winter
December is a popular month for travel to Mexico, when the weather is warm and dry across the country. The dry season continues into January and February, and though it is technically winter, these are still good months to charter a yacht in Mexico. In fact, during this part of the year, the whales are migrating through Baja California — making it an ideal place to visit.
Spring
March and April are the last months of dry season, and because of that, they are also a great time of year to visit Mexico. In the spring, spend time relaxing on the beaches of the Yucatan Peninsula, or anchor your yacht and head into Mexico City to get a taste of the country's vibrant restaurant and nightlife scene.
Summer
May starts Mexico's rainy season, which runs through late October. During Mexico's summer months, expect afternoon thunderstorms, high temperatures and a lot of humidity. That said, the rain shouldn't interfere with your yacht charter plans, and this time of year is one of the best to visit Riviera Maya. The cool rains balance out hot temperatures, and evenings are absolutely beautiful.
Fall
While September still has heavy rains, October is officially the last month of rainy season in Mexico. That said, yachters should still expect high temperatures, humid conditions, and occasional heavy rains — and even potential hurricanes — until November. November is the best month to visit Mexico. By this point, there is much less rain, and the crowds, which are known to come in December, have yet to arrive; meaning you have much of Mexico to yourself.
There is much to see on a Mexico yacht charter – contact our charter brokers today to start planning an unforgettable vacation on the water.