Sicily Yacht Charters
Explore the scenic beauty of Sicily on your luxury yacht charter in Italy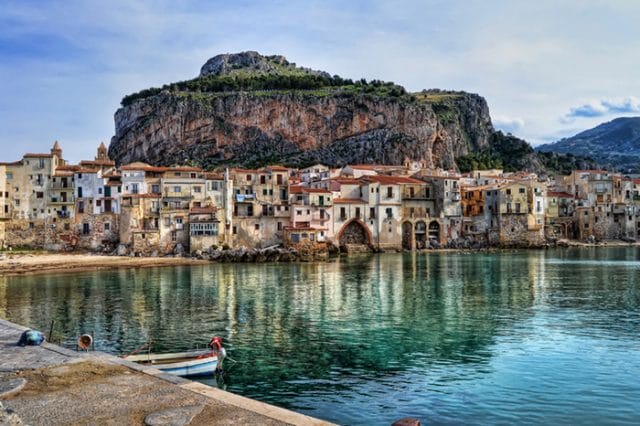 Considered to be one of the most alluring yacht charter destinations in the Mediterranean, the island of Sicily exudes an unusual charm: one characterized by its diverse landscapes, colorful marketplaces, varied Mediterranean influences and welcoming, passionate people.
The juxtaposition of sea, volcano and mountainous terrain make for a stunning, somewhat mysterious, backdrop; while its Arab domes, Byzantine mosaics and baroque architecture paint a picture of a beautiful, classic heritage.
Walk through its quaint passageways, and prepare to be mesmerized as you take in the smell of the fragrant lemon trees, watch the moonlight reflecting off its marble walls and explore the ruins of bygone civilizations everywhere you turn. In Sicily, the food alone is worth a visit. Inspired by what the land and sea produce, and influenced by the varied cultures of the diverse Mediterranean countries, Sicily's cuisine is a product of tradition and artistry.
The island is home to numerous beautiful beaches, spectacular mountains, including one of Europe's most famous landmarks, Mount Etna. It is definitely one of the most beautiful grounds for luxury yacht charters in Italy.
Things To Do and See in Sicily
During your next yacht charter stop in Sicily, explore the sites and areas listed below to experience the best the island has to offer. Everyone wishing for an unforgettable experience full of old Italian charm – Sicily is a fantastic destination for yacht charters.
Palermo
While Palermo is regarded more for its crowds and chaos than its serene, Sicilian lifestyle, its baroque palazzos, lively market streets, family-oriented feel and glimmering Byzantine churches make it a place worth visiting. Perfect for yachters and foot travelers alike, Palermo is well-positioned for local excursions to Mondello beach, the island of Ustica, Corleone and Monreale.
Milazzo
Milazzo is a town on the northern coast of Sicily, visible from afar due to an enormous citadel within its borders. Its "Borgo Antico," or "Old Town," and secluded, rocky coves paint a picture of historic and beautiful Sicily. One of the first Norman buildings on Sicily, the castle, along with the Sanctuary of St. Francesco from Paola, are the highlights of Milazzo.
Lipari
As the most accessible of the Aeolian Islands, Lipari, is the meeting point of city life and serenity. The destination's focal point, Lipari Town, encompasses a whimsical, pastel-colored seafront while its countryside, a rugged, Mediterranean landscape, is filled with verdant shrubbery, calm highlands, jagged cliffs and celestial blue waters.
Stromboli
A volcano-turned-island, the Aeolian Island of Stromboli is just the tip of a large underwater volcano that sits on the seafloor 1476 meters below. As captivating as it is unique, Stromboli boasts a slow, relaxed lifestyle, romantic vibes, famous black beaches, and a reputation as being the summer favorite of Dolce and Gabbana, who have a house there.
Salina
With its lush, green landscape, thick woodland forests, plentiful vineyards and colorful wildflowers and gorse bushes, Salina is the second largest of the Aeolian Islands. Shaped by two extinct volcanoes, Monte dei Porri and Monte Fossa delle Felci, Salina boasts grandiose coastal cliffs, volcanic soil and natural, freshwater springs.
Syracuse
Once the largest city in the Ancient world, today, Syracuse is a picture of Sicily's timeless beauty. Dotted with fragrant citrus orchards, hidden Ancient Greek ruins, streets lined with cafes, and Baroque piazzas, this Medieval town still embraces life as it was 3,000 years prior. The city boasts a Greek and Roman amphitheatre, the Tomb of Archimede, and the Temple of Zeus.
Panarea
The most fashionable of the Aeolian Islands, the small island of Panarea, which is only active during the summer, attracts international jet-setters and Italian fashionistas looking for a taste of "la dolce vita." From May to October, it is not uncommon for Panarea's harbors to be filled with luxury yachts, nor for its footpath-only streets to be covered with affluent travelers.