Ischia Yacht Charter
Visit the charming island of Ischia on your luxury yacht charter in the Amalfi Coast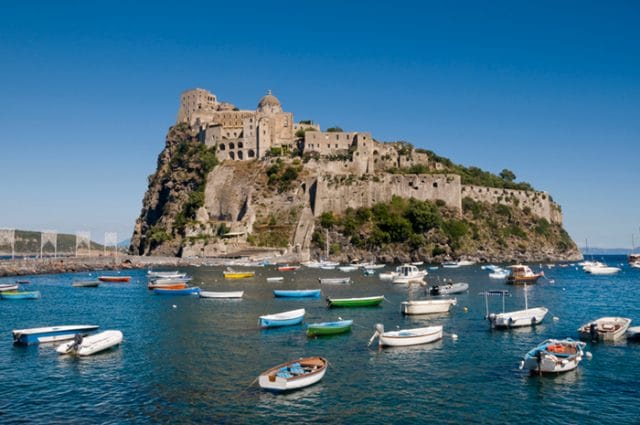 The idyllic result of a volcanic eruption, Ischia is regarded for its unique geography, inherent culture and reputation as a place of " healing " thermal spas.
Wind through its quaint city streets, and yacht charter guests will find a wealth of interesting sites – like the quaint, white-washed Church of Soccorso – an idealistic Mediterranean site in Forio known for its views of the Mediterranean Sea.
As the largest of the Neapolitan Islands, Ischia is covered in countless churches, museums and monuments, all historic and all dotted across its beautiful, whimsical terrain. Visited primarily for its plentiful thermal spas – believed to have special, therapeutic powers since the early days of the Roman Empire – Ischia welcomes yacht charter guests to try its range of natural treatments, like thermal mud packs, massages, and thermal vapors, the last of which is used to treat respiratory ailments. Its geological development, too, is worth noting; Ischia is home to the much-photographed "Mushroom," a rock formation that juts out of the water in the shape of a mushroom, floating seemingly aimlessly on the Mediterranean Sea. No wonder Ischia is a popular stop for luxury yacht charters in the Amalfi Coast.
Things To Do and See in Ischia
To get the most out of your next yacht charter to Ischia, visit the beautiful sites listed below:
Faiano Pine Forest
Sitting in the borough of Barano, the island's largest forest is unlike any other. Its whimsical combination of shade d pine, chestnut and oak trees, fragrant Mediterranean shrubbery and lava rock make for a magical walk through the forest for both residents and tourists alike.
La Mortella
First developed in 1956, the La Mortella gardens is considered to be one of the most beautiful private gardens in all of Italy. Created by Susana Walton, the wife of British musician Sir William Walton, this collection of rare and exotic flora is a testament to the betrothed couple's love for one another; and is visited by travelers across the globe who have heard of its acclaimed enchantment.
Mount Epomeo
As Ischia's highest mountain peak, Mount Epomeo towers 2,589 feet above sea level. Covered in verdant plant life, vast green acres, local vineyards, and in some areas, white lava, this peak – which is believed to be a volcanic horst – is one of Italy's most interesting geographical landmarks.