Amalfi Coast Yacht Charters
Explore the rugged beauty of the Amalfi Coast on your luxury yacht charter
The Amalfi Coast is a well-known for spectacular views, breathtaking landscapes, historic wonderment and crystal blue water, making it one of the most popular destinations for yachts charters in the world. On Amalfi Coast you will find secluded beaches, valleys that run into the sea, and terraced gardens that have been bearing fruit for centuries.
A dazzling combination of dramatic terrain and whimsical seaside towns, it should come as no surprise that the picturesque Almalfi Coast was credited by UNESCO as being "an outstanding example of the Mediterranean landscape." With coastal mountains that plunge deep into the Mediterranean Sea – bordering a diverse collection of crags, fishing villages, sparkling sunsets and dense forests – the different areas of this idyllic Italian coastline each have a personality of their own.
Among its coastal gems, Positano and Amalfi glitter with high-end shopping and tourist-filled streets, while the mountain town of Ravello is popular for its majestic villas and once-famous residents. No matter where you charter along the coast, you will be surrounded by magnificent beauty, classic Italian views and pristine blue waters, perfect for romantic yacht charters in Italy.
Planning a yacht charter escape to the Amalfi Coast? Schedule some time to see its most beautiful sites, listed below, and make your yachtinga trip to remember.
Amalfi Coast yacht charter destinations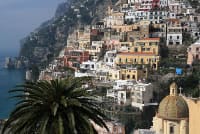 Positano
Well-appointed on a seaside slope overlooking the beautiful Mediterranean Sea, Positano is known for its colorful villas, Italian fashion houses, and wild landscapes of lemon trees, orange groves and flowering gardens. The backdrop of several films – including Only You and Under the Tuscan Sun – this charming village is a popular yacht charter destination.
Capri
Capri is a picturesque island in the Amalfi Coast favored by the rich and famous since the days of the Roman emporers. Its most striking landmark is the Grotta Azzurra (Blue Grotto), a cave just on the edge of the water that lights up turquoise from below. In ancient times, Tiberius built a number of villas on the island. Many of them are still well-preserved, including Villa Jovis and Villa San Michele.
Naples
Praised, today, for being the largest city in southern Italy, Naples was originally founded by Ancient Greeks nearly 3,000 years ago. Home to the oldest opera house in Italy, famous historical castles, and Spaccanapoli – a popular street for shopping, dining and church – Naples boasts one additional claim to fame: inventing the pizza.
Sorrento
Overlooking the bay of Naples, historic Sorrento is known for its breathtaking sea cliffs, enchanting Vesuvius and Capri views, luxurious resorts, yacht-filled harbors and wealthy yacht charter guests. Wind through its quaint city streets to see its boutique shops, Medieval buildings and antique churches, and head to its historic city center.
Ischia
Floating on the northern end of the Gulf of Naples, the island of Ischia is home to nearly 30 thermal spas, more than 60 fumaroles and over 100 hot springs. Perched on the tip of Mount Epomeo – an inactive, underwater volcano – Ischia paints a picture of pure, natural beauty: one complemented by plentiful vines and fruit trees, the dense Faiano Pine Forest and streams of lava rock.