Italy Yacht Charters
Explore the stunning coast of Italy onboard a luxury yacht charter
Italy has long been considered one of the world's top vacation destinations. With its welcoming culture, tantalizing food and sweeping coastlines, there's no better place to take your next getaway. Yacht charters to Italy offer an innovative way to tour the country, all from the comfort of your own private vessel.
Explore the cerulean blue waters of the Mediterranean Sea, or dock and explore the bustling cities of Rome and Venice. Home to rich history, stunning museums and top-of-the-line shopping, after you reserve an Italy yacht charter, you may never want to leave.
Charter Areas
You could spend months exploring all the hidden treasures that Italy has to offer. But in the interest of time, you'd better stick to the highlight reel. While you're free to dock at different destinations during your Italy boat charter, we recommend these four popular locations: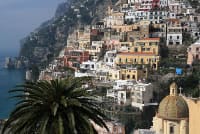 Amalfi Coast
Home to secluded beaches, vibrant homes tucked into its jagged mountains, familiar towns, idyllic natural landscapes, fruitful terraced gardens, seaside valleys and all the beauty a yacht charter guest could hope for, Amalfi Coast si regarded as a UNESCO World Heritage Site. Make sure to visit Positano, Capri, Sorrento and Naples.
Italian Riviera
Equal parts glamorous and naturally beautiful, the Italian Riviera is the epitome of Italian history and class. Dotted with ancient fishing ports, inherent charm and some of the globe's most popular destinations, like Portofino, San Remo and the Cinque Terre, the Italian Riviera has become an international favorite for yacht charter guests in the Mediterranean Sea.
Sardinia
As the second largest island in the Mediterranean, Sardinia has one of the most beautiful coastlines in all of Europe. From near-perfect beaches and archaeological ruins, to charming coastal towns and villages and world-renowned caves, Sardinia is a destination with water and land activities all yacht charter guests can enjoy.
Sicily & Aeolian Islands
Known for being a melting pot of European, African and Asian heritage, Sicily is home to plentiful Arab castles, Greek temples and Aragonese churches. As the largest and most unique island in the Mediterranean, it boasts architectural gems, a complex history and interesting folklore that is sure to impress.
Italy Charter Hightlights
With loads of artistic influences and gastronomic pit stops to explore, Italy offers yachters a collection of locales, activities and indulgences to experience during their next sail through the Mediterranean Sea.
History and Culture
With a history rooted in Catholicism – and a culture steeped in art and architecture, music, family and delicious cuisine– Italy has become one of the most raved about destinations in the Western Hemisphere. The birthplace of the Roman Empire, and a major player in the Renaissance era, the Italian peninsula is home to a vibrant culture that has flourished and inspired visitors for centuries.
Cuisine 
Regarded around the world for its tantalizing pastas, full-bodied wines, delectable cheeses, creamy gelato, perfect pizzas and more, the culinary scene in Italy isn't one to miss; it exemplifies a passion that's present in the Italian culture. With countless regions boasting different local fare, Italy has become one of the world's top food destinations.
Landscape
Famous for its boot-shaped border, the landscape of Italy is divided into many different regions – and each embodies a different spirit. Home to the Italian Alps, the Tuscan hills, stunning lakes, winding rivers and the legendary Mount Vesuvius, all surrounded by idyllic islands, Italy 's terrain is as diverse as it is enchanting.
Nightlife
Considering the way Italians appreciate passion and people, it should come as no surprise that Italy's nightlife lasts late into the evening. From local bars and cafes, to crowded nightclubs, late-night eateries and streets filled with live music, locals and tourists alike can trek across the country's quaint, cobblestone streets and find something for everyone at all hours of the night.
Best Time to Charter in Italy
While the idyllic Italian coast is beautiful all year round, when it comes to chartering a private charter yacht on its sapphire waters, there are some times of the year that are better than others.
Typically, yacht season runs from the beginning of April through the end of October, with the height of the season being during the summer months, in July and August.
During these particular months, travelers will benefit from both warm climates and light winds, making this time of year ideal for boat exploration. That said, April-May and September-October shouldn't be passed up as potential times to visit the area. Given that outside temperatures are still comfortable, waters are still warm enough for swimming and these months fall just outside tourist season – when destinations are most crowded – this time of year is ideal for yacht charter guests to set sail on their private charter yacht and explore the enchanting Italian coast.
Ready to explore all Italy has to offer? Enjoy pampering amenities aboard your luxurious Italian charter yacht. Here at Worldwide Boat, we'll pair you with the vessel and crew best suiting your needs, so you can sit back, relax and enjoy a full-bodied red as you sail along the Italian coast.
VAT (Value Added Tax) on Charters in Italy
As any yachter knows, when it comes to chartering in international waters, a Value Added Tax (VAT) will typically be applied. The following VAT laws pertain to private yacht charters in Italian waters:
– If a yacht only cruises through Italian/EU waters, a standard 22% VAT rate will be applied.
– If a yacht cruises both in and outside EU waters, the VAT rate is only applied to the charter for the amount of time spent in Italian waters.