Corsica Yacht Charters
Discover Corsica's stunning hilltop villages and pristine natural landscapes aboard a charter yacht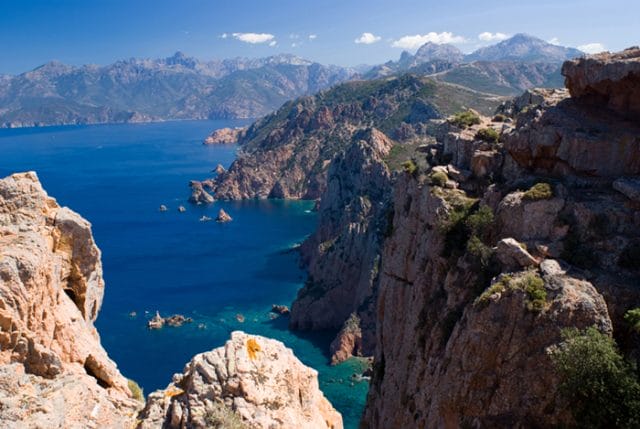 Corsica – the stunning island off the coast of the French Riviera – is a quiet respite from bustling Cannes, or the lavishness of Monaco. This ancient island is marked by its laid-back, welcoming people, sun-soaked Old World town squares, and truly breathing taking landscapes. Explore all that Corsica has to offer aboard a luxury charter yacht: From the glimmering bays, to the towering cliffs and swank beaches.
A stroll through Corsica's charming hilltop villages is a walk through history. Around each corner, discover remnants of its hidden culture: Centuries-old cathedrals, cobble-stoned streets, bustling fish markets and music-filled squares. Yet, the reason many charter in Corsica – to experience the island's natural beauty. With its red cliffs towering over the Med, secluded beaches, turquoise waters, and pine and eucalyptus forests perfect for hikes, Corsica is home to some of Europe's most scenic landscapes.
Bottom line, Corsica is perfect for yacht charter guests seeking a relaxed, but luxurious escape. Corsica's dazzling harbors and charming fishing villages provide unique itinerary options for yacht charters, along some of the best cruising grounds in the Mediterranean.
Planning your next yacht charter adventure in the Mediterranean? Set sail to Corsica and discover the idyllic escape that awaits.
Corsica Yacht Charters: Where to Go
Corsica might be one of the Mediterranean's best yacht charter destinations. With numerous attractions tucked away along Corsica's 600-mile coastline – beautiful seaside towns ala like Ajaccio, plunging cliffs at Golfe de Porto and glistening beaches and bays at Calvi – Corsica charters are adventured-filled.
Many charters cruise the breathtakingly beautiful western coast of Corsica, from Calvi to Bonifacio. Anchoring in the deep-water harbors in the many charming fishing villages that line the route, you'll be swept away by Corsica's charms. Where to go:
Ajaccio
Ajaccio is known for its beautiful views, lively city center, historical significance and Côte d'Azur-esque bays. To see all it has to offer, wander through its quaint cobble-stoned streets, take a drive through the enchanting Route des Sanguinaires – one of the world's most scenic drives – or explore Ajaccio's many vestiges of its storied past: Ancient statues, museums, and even palaces that belonged to the once-powerful Napoléon Bonaparte.
Bonifacio
Bonifacio's Old Town dates to the 9th Century, and making it one of the oldest and most historic towns in all of Corsica. As charming as it is beautiful, Bonifacio is a must stop for Corsica yacht charters. Located high on the cliffs above a natural harbor, Bonifacio is a short sail from Italy's Sardinia, and boasts a rolling coastline of bright townhouses, ancient chapels and narrow streets lined with upscale shops, cafes and cocktail bars.
Calvi
In Calvi, the Old World meets the new. Throughout this quaint village, you find remnants of the island's military heritage – tour the many watchtowers, battlements, and a 15th-century citadel. Yet, the port offers plenty of modern sophistication. Boasting French Riviera vibes, Calvi has become one of Corsica's most raved-about yacht charter destinations, which offers access to trendy restaurants, five-star resorts, and lively beach clubs.
Porto Vecchio
Called the "St-Tropez of Corsica," Porto-Vecchio is every bit an example of life at its finest. With its A-List travelers, fashionable inhabitants, picturesque mansions, and designer shop-lined streets, Porto-Vecchio's charm and sophistication beckons yachters from around the world. Here, you'll find a collection of beautiful beaches and relaxing beach clubs, fine wine shops, hip bars and numerous cultural events – making Port Vecchio a worthy destination on your Corsica charter.
Scandola Natural Reserve
Designated in 1975, this UNESCO World Heritage Site sits just southwest of Calvi, and encompasses 1900 hectares of unspoiled Mediterranean land and sea. Home to unique red rock formations jutting out of the sea, secluded caves, jagged inlets and plentiful wildlife, Scandola Natural Reserve offers a natural escape that creates quite the impression.
Propriano
Sitting on the southwest coast of Corsica, Propriano offers a peek into the early 19th-century Mediterranean. Once occupied by the Greeks and Romans, and later attacked by 18th-century pirates, this coastal town has a lively past. Today, it is recognized for its Church of Notre Dame de la Misericorde, a majestic Old World chapel, as well as its dazzling harbor filled with the world's finest superyachts, luxury shopping and close location to both mainland France and Sardinia.
Exploring France During Your Corsica Yacht Charter
Corsica offers the perfect counterpoint to the glitz and glamour of the French Riviera. Its quiet, relaxing natural landscapes and quaint seaside villages provide an escape from bustle of Cannes or Monaco.
Yet, just a short cruise from mainland France, Corsica offers a jumping off point to explore all that this region has to offer. In particular, Corsica is well-connected to three must-visit French Riviera and Italian charter destinations:
Cannes – Charming and humming with life, Cannes is the center of the French Riviera. Here there's plenty to explore: Cultural events (like the Cannes International Film Festival), as well as lively markets, upscale bistros and cafes, and plenty of history. Cannes lies north of Corsica, making it an ideal destination while on charter.
Monaco – Monaco – although not technically a France principality (Monaco is a city-state) – offers all the finest food, wine and luxury entertainment in the world. Whereas Corsica has a decidedly laid-back vibe, Monaco is the epitome of extravagance – world-class spas, Michelin-starred restaurants, and high-stakes casinos await.
Sardinia – Situated due south of Corsica, Sardinia is the island's Italian neighbor, and it's an ideal addition to Corsica charter itineraries. Known for its stunning cathedrals, emerald waters, and Old World port towns like Porto Cervo and Cagiliri, Sardinia is full of Italian passion, great food and to-die-for vistas.
Best Time for a Corsica Yacht Charter
Thanks to its perfect Mediterranean climate, Corsica offers year-round charters. Yet, April to October provide the best weather and conditions to explore the island.
By late spring, temperatures hover in the mid-60s, and by June, creep into the 70s. In particular, Corsica's busiest months are July and August – much like the rest of the Mediterranean – but the off-peak "shoulder months" of April, May, June, September and October offer great weather, ideal cruising conditions and less crowds, making these a popular time for charters as well.
Cruising conditions tend to be calm with mild breezes from April to October, making for prime sailing.
Discover Corsica's vibrant culture, stunning landscapes, and delectable cuisine, while on charter. Contact your Worldwide Boat broker now to learn more about our Corsica charter itineraries.