Skopelos Yacht Charters
Explore island Skopelos on your luxury yacht charter in Greece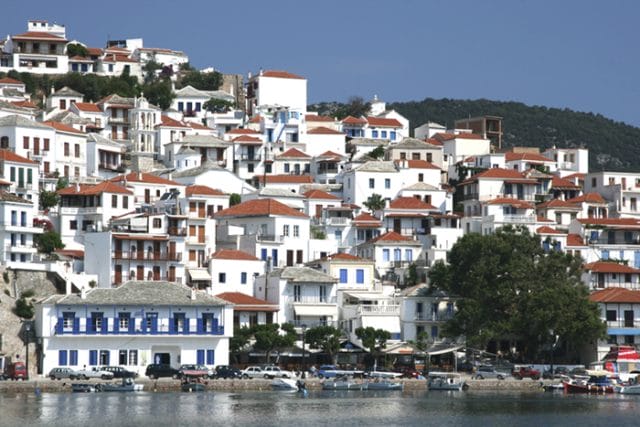 Located in the North Sporades group of islands is Skopelos, with its three ports of Skopelos, Agnontas, and Glossa.
The capital city of the island is Hora, which is located on the northern coast. Originally, it was named Peparithos after the son of the Greek god Dionysos and Ariadne, and the city sits on a hill that is topped by a medieval castle. The views from the castle are breathtaking, and offer vistas of the blue waters of the Aegean, narrow streets lined with stone houses and beautiful courtyards, as well as a number of Byzantine churches. The Folklore Museum in Hora offers a rich collection of historic exhibits and is housed in a renovated mansion.
The second biggest settlement on the island is Glossa, known as "the tall village." It's distinctive personality is marked by the ruins of ancient towers and other buildings as well as the noble character of the present-day town. Nearby is the village of Palio Klima, which suffered damage during an earthquake in 1965. Neo Klima, or Elios, is a new settlement which was founded in 1981 and is located near the beach of Hovolos.
Things to Do and See on Skopelos
See the magnificent Byzantine monasteries, each built in picturesque locations and offering breath-taking views.
Drakonstosxisma, or Dragon cleft, where legend says the patron saint of the island killed a dragon that was attacking the inhabitants. The gorge is surrounded by the turquoise sea waters and the steep rocks with "hanging" pine trees make for unbelievable views.
Sendoukia where ancient pirate graves are carved into the rock.
Ai Yiannis at Kastri is where the wedding scene from the film "Mamma Mia" was set. Located at the top of a steep rock, you can climb the carved stone steps to see an amazing view of the archipelago.
Don't forget to spend time sunbathing, swimming, and enjoying watersports on the pebble beaches of Skopelos, including Milia and Panormos.