Scuba Diving in Greece
Greece offers some amazing scuba diving locations worth exploring while on your charter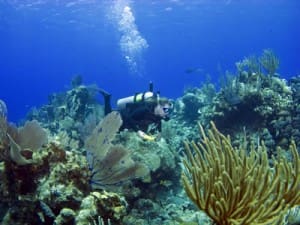 A Greece yacht charter wouldn't be complete without exploring some of the most fascinating scuba diving locations in the world. With thousands of islands and miles upon miles of coastline, there is an underwater adventure filled with exotic marine life and ancient treasure no matter where your itinerary takes you.
Here are some of Greece's greatest dives that you should consider when planning your charter vacation.
Dragonisi Island Caverns (Mykonos) – these spectacular natural rock formations off this uninhabited island are the result of thousands of years of erosion. The caverns dazzle with shiny glassfish and yellow sea anemones. Divers may also encounter a rare monk seal.
Wreck of the HMHS Britannic (Island of Kea) – this sister ship to the Titanic was an Olympic-class ocean liner being used as a hospital ship until it was sunk by an underwater mine in the Aegean. The largest ship lost during World War I, the wreck site was discovered by Jacques Cousteau in 1975. The wreck is not advised for new divers because of its depth and complexity, but experienced divers are enthralled by it.
Shinaria Beach (Crete) – located near the small village of Lefkogia, this is one of Greece's best spots for divers who want to see exotic and colorful marine life. Along with fish, octopi and morays, you'll also find majestic manta rays. The clear waters and excellent visibility make this location a must see for divers of all levels.
Turtle Island (Marathonisi) – this uninhabited island resembles a turtle in shape, and is also the birthplace of giant loggerhead turtles. After swimming thousands of miles, the loggerheads lay their eggs on one of the two main beaches. This site is perfect for new divers, and more experienced divers can swim with grouper, flying fish, bream, morays, octopus and parrotfish.
Arado 196 German Seaplane (Naxos) – this dramatic plane wreck is submerged in 66ft of water. The plane sits upside down, but the fuselage and wings are mostly intact.
The Dome (Naxos) – this large cavern features a wide variety of marine life, but its most famous feature is an air-filled dome that appears to be lit by an otherworldly blue light.
Nea Kameni (Santorini) – literally translating to "new volcano" this area of volcanic rock also has a small wreck for divers to explore.
The Caves (Santorini) – a network of volcanic canyons, swim-throughs and caverns that are perfect for a diving adventure.
Kelifos Island (Ionian Sea) – just off the Kassandra Peninsula in the Thessaloniki region, this combination of three sites has abundant marine life, including seahorses, octopi, conger eels, cuttlefish and groupers.
HMS Perseus (Kefalonia, Ionian Sea) – the top dive site off this island is an intact and upright submarine that hit an underwater mine and sank in 1941. Now an artificial reef, divers will find jacks, wrasse, sea bass and grouper, and the sub's conning tower is a great spot for a photo.
Messerschmitt Wreck (Crete) – this German fighter plane from World War II may be upside down, but its cockpit, fuselage and wings are intact. Divers that visit this wreck will see the plane's machine guns, along with groupers and eels.
Daedalos (Crete) – if there are new divers in your group, head to this great spot for beginners in the waters off Crete. The marine life is abundant and includes everything from grouper and cuttlefish to crabs, octopus and moray eels.
Great Wall (Chios Island) – located less than five miles from Turkey in the Aegean Sea, Chios is the fifth largest of the Greek islands and offers a wide variety of dive sites including colorful shipwrecks. Most notable is the Great Wall, a 100ft underwater cliff adorned with bright corals. When diving these bright blue waters, you'll find perch, wrasse, salpa and combers with the occasional tuna and sea turtle.