Lastovo Island
Visit the tranquil island of Lastovo on your charter in Croatia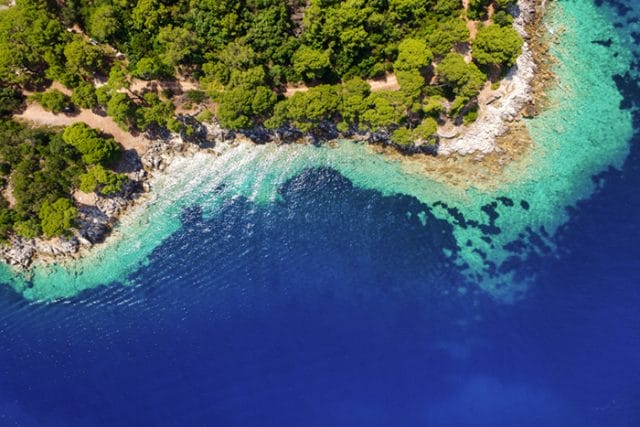 Virtually sparse in terms of tourism, the idyllic Island Lastovo is a special yacht charter Paradise all to its own. With its dramatic and jagged coastline, dense forests, translucent waters and unbeatable views, Island Lastovo, which is surrounded by 46 smaller islands, is a true oasis of serenity.
Wind through its quaint pathways, and yacht charter guests might find tranquility in the sounds of birds chirping, waves lapping against the island's rocky cliffs, and an island breeze gently whistling through the trees.
In the island's main village, also named Lastovo, yacht charter guests can peruse the ancient stone houses and Renaissance church, or take the village stone steps to the meteorological station for unparalleled views of South Dalmatia below. Given its perfect landscape, it should come as no surprise that Island Lastovo was named a protected "nature park" in Croatia. Yacht charter guests can enjoy its natural beauty with a glass of Lastovo Marastina in hand: a full-flavored and dry white wine, originally from the island, that has gained popularity through all of Croatia.
Reserve your private charter yacht today, and set sail to Island Lastovo during your next Croatia yacht charter.
Things to Do and See in Lastovo
Lastovo Village
Stretched over the steep cliffs of Island Lastovo's natural amphitheatre, the town of Lastovo faces opposite the sea. Regarded for its ancient stone architecture, antiquated feel and sparse population, this village has a personality that is all its own. As the largest of Island Lastovo's villages, it is the one most visited by travelers.
Church of Saints Cosmas and Damian
Sitting in Lastovo Village, on the oldest part of the town square, the Church of Saints Cosmas and Damian is the central church of Island Lastovo. Dating back to the 14th century, this religious institution is built upon smaller churches stemming as far back as the 5th or 6th centuries. Adding to its allure are the historic art pieces it houses, including: a painting of Saint Cosmas and Damian on its main altar, and one done by an anonymous Venetian painter from 1545, Pieta.