Dubrovnik to Split Week Long Charter Itinerary
Visit some of Croatia's most beautiful and fascinating islands and coastal towns
Start your week in Dubrovnik and end it in Split with an itinerary that takes you through some of Croatia's most beautiful and fascinating islands and coastal towns. If you wish to have a slower pace on your charter but still see all the best Croatian Coast has to offer, this is the itinerary for you.
Day 1 & 2: Dubrovnik

Your Croatian yacht charter itinerary starts at the historic and timeless walled city of Dubrovnik. It is well worth walking around its narrow streets and picturesque harbor, relaxing in the coffee houses of the town plaza or soaking up the history.
Dubrovnik was built on maritime trade and in the Middle Ages was the only city-state in the Adriatic to rival Venice. Because of its fortified walls and towers and well preserved monuments, Dubrovnik is a UNESCO World Heritage Site.
Day 3: Mljet

The wild, untamed Dalmatian island of Mljet is one of Croatia's top sights, and a paradise for yacht charter guests looking to get away from it all. Half of the island is a pristine national park. There are very few residents, no large towns and only one major road.
A good sail to the north of the island of Mljet will bring you to the small town of Pomena. From here it is a walk or boat ride to the two lakes Malo Jezero and Veliko Jezero. These lakes are connected together by a channel. You can wander along the lakes on meandering paths shaded by pine trees, ride a bicycle through the magnificent park, rent a kayak to paddle the lakes or simply swim in the gloriously clear blue water.
In the middle of Veliko Jezero is an islet with a Benedictine Monastery. It was originally built in the 12th century but has been rebuilt several times since. It's now a restaurant, accessible by yacht. These lakes and the monastery are a highlight of Croatia and are a favorite with everyone that visits them.
Day 4: Lastovo

The island of Lastovo has only recently been opened to foreign yachts. It is therefore mostly unspoiled by development although there are now a few holiday homes being built. The island is noted for its 15th- and 16th-century architecture. There is a large number of churches arising from its Roman Catholic tradition. The island is well known for its Carnival, and during the summer it hosts many music festivals.
There are several secluded anchorages where quiet shelter can be found.
Day 5: Vis

The remote Croatian island of Visis the westernmost of the larger Dalmatian islands, two and a half hours by boat from Split. Vis town is on the southern slopes of Gradina Hill, situated in the quiet bay of Luka. It has only been open to yachts since1989 and is therefore relatively unspoiled.
Vis is as stunning as Capri was before hoards of tourists descended upon it! Despite its picturesque Mediterranean beauty, its glorious olive groves and vines, its ancient ruins and deserted beaches, Vis (somewhat unbelievably) still has virtually no tourists!
Vis is famous for its Vugava and Plavac wines made from the local grapes, which we highly recommend you sample.
Day 6: Hvar

After a great sail across Lastouski Kanal you will arrive at the island of Hvarand the main town of the same name. This is a beautiful town with a wide open central plaza, a magnificent clock tower at one end and a small fishing harbor at the other.
The historic, picturesque town of Hvar allows no auto traffic in its piazza, and the coffee shops and restaurants that surround it offer excellent vantage points for observing the harbor. At night, this tiny, quaint town comes to life with bands along the docks, and dancing in the street 'till dawn.
Hvar island is famous for lavender – a walk to the lavender fields is well worthwhile.
Day 7: Trogir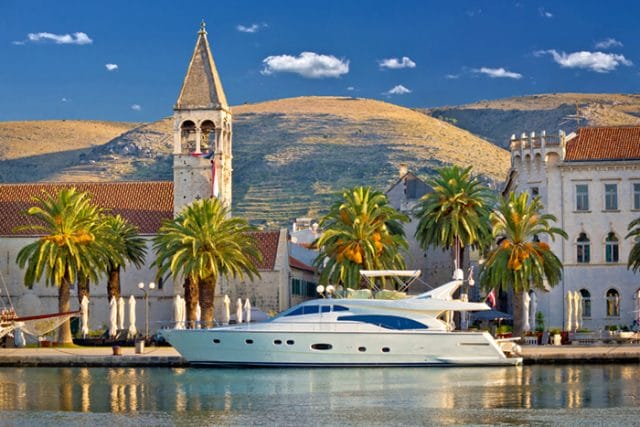 Leave early for a sail to the town quay at Trogir. This is a really beautiful and bustling old Venetian town. Trogir is fortified with a castle at the end of the town quay. There is a strong Italian influence with many interesting shops, courtyard coffee houses and good restaurants. The town quay is where everyone congregates. Eat onboard and watch the world go by – it's all good fun.
From here it is highly recommended to take a day trip into Split. The center of town – Old Split – is fascinating, built within and around the fortified Roman palace of Emperor Diocletian, about 300AD. Much of the palace still stands today and is a unique example of Roman architecture. Split also has one of the largest and most colorful food markets found anywhere in Europe.
Day 8: Split

Time for any last minute shopping and goodbyes before the short 10 minute journey to Split airport.