Croatian Coastal Cuisine
Foods to try on your Croatian yacht charter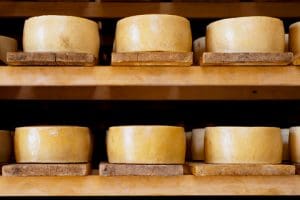 Croatian cuisine isn't well-known around the world – yet! With its many influences, including Italian, Turkish and Hungarian, there is a dish to please every palate. Dishes vary from the coast and islands to the interior regions, but they all have one thing in common: the freshest ingredients, such as seafood, meat, vegetables and even truffles.
While on your yacht charter in Croatia, be sure to sample some of these delicious coastal dishes and desserts!
Peka – One of Croatia's most popular dishes, meat or seafood is cooked under a bell-shaped terra cotta or steel lid – called a peka – placed on a fire or hot coals with additional hot coals or embers placed on top. Vegetables and potatoes are added, soaking up the delicious juices as the food cooks.
Brodet – this classic Dalmatian dish is a fish stew from Dalmatia that is made with mixed seafood and fish, and usually served with creamy polenta, although some people prefer it with rice.
Hvarska gregada – a typical fisherman's dish from the island of Hvar, it includes different types of fish cooked in a pan alongside potatoes, herbs and white wine.
Pašticada – this rich beef stew is most commonly found in Dalmatia and served with with gnocchi.
Fuzi s tartufima – a pasta dish with thin tube-shaped noodles and Istrian white truffles.
Fritaja – an Istrian omelette or frittata-like dish that contains vegetables, herbs and occasionally meat. Asparagus is always a popular ingredient.
Istarska jota – an Istrian stew that contains beans, potatoes, and pork.
Skradinski Rizot – a veal-based risotto that takes up to 12 hours to cook and a team of people attending to it the entire time. Other meats are added along with the veal, plus either beef or rooster stock. Once cooked, it's topped with Paski sir, a sheep's milk cheese from Pag Island that gives the dish its distinct flavor.
Soparnik – from Poljica in Dalmatia, this flat vegetarian pie is filled with swiss chard, garlic and parsley, and baked in a komin (fireplace). This is a uniquely Croatian dish, and popular with kids and adults alike.
Grilled Fish – the Adriatic yields delicious fresh fish and seafood, which is then grilled to perfection. Sample sardines, sea bream, sea bass or scorpion fish that is simply seasoned with salt, pepper and olive oil.
Crni Rizot – a black risotto with an intense seafood flavor. It is made with fresh squid or cuttlefish, prawns, white wine, and squid ink that gives it the intense black color.
Cevapcici – a Middle Eastern inspired thin sausage or kebab made from minced meat. These are typically grilled and served on a flatbread.
Burek – a baked dish with layers of filling and pastry, available in both savory and sweet options. Ground meat or spinach and cheese are most commonly found.
Fritule – a small and doughnut-like dessert that is fried and often flavored with fruit.
Kremsnita – a creamy custard and vanilla cake that is something visitors to Croatia must try at least once.
Orehnjaca – a walnut roll that has a milder sweetness to the creamier dessert options.