Leeward Islands Yacht Charters
Explore the Leeward Islands on your luxury yacht charter in the Caribbean
The Leeward Islands offer the perfect combination of luxury and adventure, making them the perfect destination for yacht charters. This enchanting Caribbean archipelago boasts perfect white-sand beaches with crooked palms, celestial blue waters and impeccable views.
After watching the sunrise over the horizon, dive into the depths of the sea to see the locale's vibrant corals and colorful fish. When you come up for air, head further inland to explore its dense rainforests or hike its towering volcanic peaks. Dotted with the remains of old military forts and sugar plantations, the Leeward Islands are bursting at the seams with interesting history.
With all this and more, the Leeward Islands is the perfect place to charter a yacht during your next escape to the Caribbean.
Why Charter a Yacht in The Leeward Islands?
Natural Beauty of the Leeward Islands
From the coastal beaches of Anguilla and St. Bart's to the volcanoes of St. Kitts, the Leeward Islands feature lush tropical landscape and miles of sandy beaches. Lucky charter guests can explore this tropical paradise up close and personal.
Varied Cultural History
Though different in nature, the Leeward Islands all share a reverence for other cultures – especially considering their diverse origins. Take St. Maarten, for example, which houses two cultures in one; one half of the island is French, while the other is Dutch.
Exceptional Diving
With its vibrant corals and tropical fish, the Caribbean Sea is a prime spot for water sports enthusiasts; especially diving and snorkeling. With its translucent blue hues and mild temperatures, this revered body of water is the perfect place to spot the most surreal sea life – even those swimming miles and miles away.
Luxury Resorts and Spas
While some of the Leeward Islands are simple in nature, others were seemingly designed to cater to the rich and famous. Head to St. Bart's crystal coast for some of the world's most desired haunts: like the Eden Roc, Nikki Beach and more.
Unspoiled Cruising
Floating seemingly off the radar in the Caribbean Sea, the Leeward Islands offer perfect breezes for smooth cruising among islands.
Explore the Leeward Islands
St Maarten: The meeting point of Dutch and French culture, St. Maarten is equal parts whimsical and unique. With its 37 pristine beaches, water sports amenities, yacht-filled harbors, vibrant nightlife and tasty local eateries, St. Maarten has something for every type of yacht charter guest – and we promise you'll never get bored. From beautiful remote beaches to chic French restaurants – St Maarten has it all.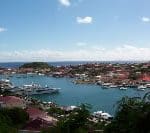 St Barts: Filled with dramatic sky-scraping mountains, powder-soft sand, towering cliffs, green-covered hills, yacht-filled harbors and aquamarine bays, this idyllic island is a raved-about destination for the rich, famous and beautiful. Painting a dreamlike picture of opulence and relaxation, St. Bart's is the perfect place to anchor your yacht, tan, and indulge in delicious food and drink.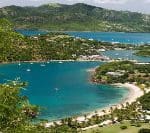 Antigua: With its sparkling blue waters, hidden bays, Caribbean vibes and pirate-filled history, life on Antigua is nothing if not enchanting. While you'll probably spend most of your time basking under its warm sun, make sure to wander through the island's interior – you might be surprised to uncover Antigua's vibrant-colored villages, quaint local streets, welcoming inhabitants and mix of Caribbean and English accents.
Anguilla: Tucked amongst some of the world's most visited islands, Anguilla has done a spectacular job of fusing its antiquated history with the desires of modern yachters. With its old clapboard shacks, modern resorts, near-perfect beaches, varied cultures and idyllic charms, Anguilla is equal parts authentic, luxurious and beautiful. Perfect for the avid yacht charter guests looking for a low-key escape.
St Kitts and Nevis: Backed by beautiful mountain ranges, a towering volcano, an interesting history and near-perfect beaches, the separate islands of St. Kitts and Nevis have fused into one nation for good reason: they're both enchanting and similar, yet each have their own distinct personalities. Anchor at these islands and explore historic sites like Brimstone Hill Fortress, wander the streets of Nevis' capital of Charlestown, hear the age-old tales of both islands' friendly inhabitants, or stay in one of its beautiful resorts along Frigate Bay. Whatever you do, time in St. Kitts and Nevis promises to engage your mind, body and soul.