Grenadines Yacht Charters
Explore remote anchorages and dense tropical setting on your luxury charter in the Grenadines
Regarded for its idyllic island charm, The Grenadines have quickly become one of the most popular destinations for yacht charters in the world. Made up of more than thirty islands and cays, only nine of which are inhabited, this archipelago boasts uncrowded anchorages, secluded coves and sparkling waters; all of which paint the picture of an enchanting haunt in Paradise.
Equal parts romantic and historic, the Grenadines was inhabited by first, the French, and – due to agreed-upon terms in the Treaty of Paris in 1763 – then, the British. It has since become a raved-about yacht charter destination for A-list jetsetters, celebrities and political figures alike. Furthermore, with its plentiful white- and black-sand beaches, reef-lined cays, lush plant life and perfect sunsets, the Grenadines' private-island resorts have become a popular haunt for wedded couples and honeymooners alike; a testament to just how beautiful this archipelago really is.
Why Charter a Yacht in The Grenadines?
32 Enchanting Islands and Cays
The Grenadines is comprised of quaint, verdant, and often uninhabited islands and cays. Head to St. Vincent for its white sand shores and secluded coves. Visit the cultural centre of Bequia with its galleries and artisan shops. Venture to Grenada's nature trails and 45 beaches. Explore the natural wonder that is the Tobago Cays National Marine Park. For the ultimate escape, Mustique is one of the Caribbean's most exclusive hideaways.
Untouched by Industry and Heavy Tourism
The beauty of The Grenadines has not been spoiled by sprawling resorts and hordes of tourists. Booking a yacht charter here promises carefree sailing, harbors that aren't overcrowded, and unrivaled views of the breathtaking surroundings. You'll be able to have a truly relaxing time since you won't have to compete for anchorages and beach space, or spend time in long lines for attractions. It is also the only place in the Caribbean where you can see petroglyphs that record the ancestral history.
Lush Rainforests
Ecoadventurers will love the abundant rainforests in The Grenadines. St. Vincent's Vermont Nature Trail promises memorable hikes surrounded by exotic tropical flora, and unique creatures like the St. Vincent Parrot. Measuring almost 11,000 acres, there are hiking trails for all ages and skill levels. Make your way to the Parrot Lookout on the far side of the reserve to see these majestic birds in their natural habitat.
Natural Beauty of the Grenadines islands
The Grenadines are unlike anywhere else in the world – from Mustique's sandy beaches to Grenada's volcanoes. Many of the islands and cays are only accessible via boat, so a yacht charter is the best way to fully experience everything there is to offer. Add the Tobago Cays National Marine Park to your itinerary, where you can get up close to its colorful coral reefs and exotic marine life. Stop for a swim on one of the pristine sandy beaches, or indulge in world-renowned diving.
Relaxed Pace and Sleepy Old-Worldliness
If escaping the fast pace of everyday life, The Grenadines offers an idyllic paradise for those craving a truly relaxing getaway. It's a great place to unplug and master the art of liming, an important aspect of island culture where you and your charter group essentially do nothing while sharing food, drink, conversation and stories. If you're not sure how to lime, the friendly locals would be happy to guide you along the way.
Sample Exotic Fruits and Spices
In an area of the world that is so lush and green, you are sure to find some of the freshest Caribbean fruits. Sink your teeth into sweet tropical pineapples, coconut, juicy mangos, papaya, starfruit, passion fruit, pomegranate, crisp golden apples, and guava. Breadfruit is also prominent in the regional cuisine, and is often paired with fish. The Grenadines are also known as "The Spice Islands," so the markets are filled with the aroma of anise, cinnamon, nutmeg, ginger, turmeric and cloves.
Swimming with Turtles
During your charter, see the world-famous green and hawksbill turtles at the Tobago Cays Marine Park. The best place to spot them is at the only natural sanctuary in the Grenadines, just off the southeastern shores of Baradal. Watch them gracefully swim by from the comfort of your yacht, or grab your snorkel gear, dive into the clear, shallow waters, and swim alongside them.
Explore the Islands of the Grenadines
St Vincent: Covered in white sand beaches, crystal blue waters, swaying palm trees and tropical charm, St. Vincent embodies all of the characteristics of a magical Caribbean yacht charter getaway – without all the pomp of some its more crowded neighbors. Floating just south of St. Lucia, St. Vincent is regarded for its secluded shorelines, beautiful Kingstown, and the island's inherent, exotic peace.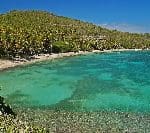 Bequia: Floating just south of St. Vincent is the largest of the Grenadines islands – Bequia. With only one real town, the charming and quiet Port Elizabeth, Bequia is also home to symbols of the island's antiquity: like the Old Hegg Turtle Sanctuary, galleries, artisans' shops and an interesting whaling heritage, one where sailors still catch them by sailboat and hand-thrown harpoon.
Mustique: Known for being a hideout for some of the world's most discerning yachters, this 1,400-acre private island is filled with plentiful designer villas, rocky headlands, dramatic hilltops and palm-fringed beaches. Embodying a unique sense of the "island life," Mustique is only home to one hotel – the elegant, well-appointed plantation, The Cotton House. For amazing nature and ultimate luxury, make Mustique a stop on your charter in the Grenadines.
Tobago Cays: Coined as a national marine park, the enchanting Tobago Cays are regarded for their natural beauty and protected waters. A favorite for curious yacht charter guests, this fabled locale is only accessible by boat. Its beauty is further highlighted in its vibrant coral reefs, world-renowned diving, perfect white-sand beaches and colorful species of exotic fish. Whether you are on a search for an adventure or a romantic getaway, Tobago Cays are the perfect stop on your charter.
Grenada: With 45 beaches, countless secluded coves, idyllic nature trails and friendly inhabitants, Grenada has become a "must-try" destination for some of the world's most haute yacht charter guests. Home to two offshore islands, Carriacou and Petite Martinique – the perfect places for a quiet day trip – Grenada boasts fragrant spice plantations and Grand Anse, one of the Caribbean's finest beaches.