Caribbean Cruising Areas
There are three main charter areas in the Caribbean - The Virgin Islands, The Leeward Islands and the Grenadines
When chartering in the Caribbean, you are choosing one of the premier yacht charter destinations in the world. Travel from island to island in comfort and luxury, and discover each location's unique flavor. At the end of the day, retire to your private floating resort for a nightcap under the stars.
The Virgin Islands
The Virgin Islands are one of the most popular yacht charter destinations in the world with just over 50 islands and cays and a rich culture. The people are friendly, and the scenery is breathtaking. In the US Virgin Islands, visit St. Thomas with its sparkling bays, pristine white sand beaches, majestic green hills, a cosmopolitan vibe, and fabulous shopping. In the British Virgin Islands, make sure to visit Tortola with its with lush tropical vegetation, mountains and white sand beaches. If you're looking for fun, Jost Van Dyke is the place to go for bars and happy hours. Virgin Gorda is home to The Baths, with its giant volcanic boulders strewn across a spectacular beach.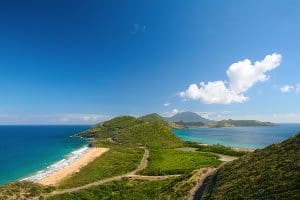 The Leeward Islands
Also known as the Lesser Antilles, the Leeward Islands are a paradise for yacht charters with a blend of French, Dutch and British cultures. St. Kitts and Nevis are famous for sunshine, rich greenery, cloud-ringed peaks, history, culture and architecture. St. Bart's is famous with yacht owners and charter guests who visit for its relaxing beaches, nightlife, dining, and high-end shopping. St. Martin/St Maarten is a fusion of European sophistication and Caribbean warmth, with green hills, sandy beaches and pristine waters.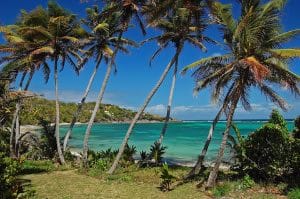 The Grenadines
For the more experienced charter guest looking for adventure, The Grenadines offers over 600 islands, remote anchorages, and an unspoiled tropical setting. You'll want to visit Bequia, the largest island in the Grenadines, especially Port Elizabeth's boardwalk with its shops, authentic West Indian culture and cuisine. The privately-owned island of Mustique is home to the rich and famous, as well as Basil's Bar, where you can have a drink without leaving the water. Union Island's town of Clifton is known for its open-air market, restaurants, bars, and festivals. Grenada, also known as "Spice Island", has a mixture of rainforest, mountains, waterfalls and secluded beaches.