Caribbean Yacht Charters
Escape to the beauty of the Caribbean Sea
Home to crystal blue waters, white sand beaches and more than 7,000 islands, cays and reefs to explore, the Caribbean is the ultimate place to take your next getaway.
Caribbean yacht charters provide guests the perfect opportunity to island-hop and explore everything the tropical islands have to offer, all while comfortably kicking back inside a luxurious accommodation on the water.
Relax as you cruise the region's sapphire waters, discover a vibrant culture, and dine on delicious, fresh cuisine along the way.
Where to Charter in the Caribbean
The Caribbean is one of the world's top yacht charter destinations, and for good reason. Caribbean destinations are renowned for their beauty, incredible seafood cuisine, laidback cultures and world-class diving and snorkeling opportunities.
The Caribbean is split up into several different regions, and each one offers its own unique culture, cuisine, accommodations and attractions. By reserving a private yacht charter to the Caribbean, you can have a say into which destinations you explore. Some areas worth exploring are:
The Virgin Islands– The Virgin Islands sit in the northeastern Caribbean (just south of the Turks and Caicos) and offer the calmest seas in the Caribbean and pleasant sailing year around. St. Thomas and St. John are two of the most popular islands.
Leeward Islands– The Leewards are situated in the middle of the Caribbean chain and include favorite charter destinations like St. Martin and Antigua.
The Grenadines– Also called the Windward Islands, these islands are more isolated, offering yachters a quiet respite and uncrowded beaches around every corner. Windward Islands like St. Lucia, Mustique and Bequia, are popular among charterers.
Popular Caribbean Destinations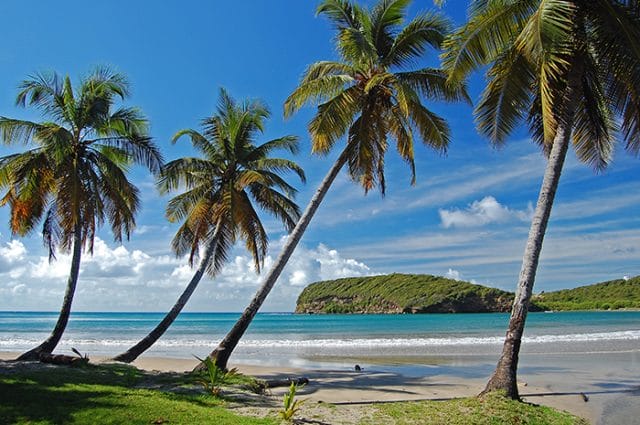 Across the Caribbean, visitors are greeted by friendly locals, laidback charm and some of the most stunning landscapes in the world. From the white sand beaches and uninhabited coves of Tobago Cays, to the chic seaside shopping districts of St. Barths and St. Martin, there are destinations to suit everyone's tastes when you reserve a luxury yacht charter in the Caribbean. While you can spend your time in the water searching for unexplored beaches, you'll also want to tour some of the main tourist destinations:
St. Martin– A hub of the yacht charter industry, and part of the Leeward Islands, this island offers incredible shopping, cuisine and nightlife. Made up of a French side and a Dutch one, there are numerous historical attractions to explore. Plus, its central location makes it the perfect jumping off point for parts unknown.
St. Barths– St Barths offers the ultimate in Caribbean luxury, making the island famous among those who reserve Caribbean boat charters and celebrities. Dine in St. Barths' high-end eateries, browse designer trends in the island's cosmopolitan shopping district or relax in one of the island's world-class spas.
Tobago Cays– This chain of cays in the Windwards offer a quiet, relaxing haven for your charter vacation. Pull up on shore and wander through the town until you find a nice place to enjoy a beachside cocktail. Also, if you're into diving or snorkeling, Tobago Cays offers some of the best dive spots in the entire Caribbean.
St. Lucia– A favorite Windward Island, St. Lucia combines stunning landscapes (like the iconic Pitons) with quiet beaches and loads of Southern Caribbean charm.
Best Time for Caribbean Yacht Charters
The Caribbean high season runs from December to May. That makes Christmas and New Year's popular holidays for Caribbean vacations. Yet, charters are available year-round, and due to many islands' locations near the equator, temperatures remain ideal throughout the year – making offseason charters just as enjoyable.
There is an increased chance for rain and storms during the low season, but rates are often cheaper during this time as well. If you do decide to venture to the Caribbean from May through December, just be sure to bring a rain jacket.
Why Charter a Yacht in the Caribbean?
The Caribbean offers charterers a bit of everything: Relaxation, sun-soaked beaches, delicious culinary treats, refreshing rum-infused cocktails and calm waters for cruising. Here are some highlights:
The Inescapable Beauty of White-Sand Beaches
Caribbean beaches have an almost a mythical quality to them. It's no wonder explorers were once willing to board wooden ships and travel thousands of miles just to see them in person.. The good news: Every island offers a selection of untouched and charming beaches for you to explore. From one-of-a-kind places like "pigs beach" in the Exumas, to the cosmopolitan Great Bay Beach in Philipsburg, St. Martin – the beaches across the Caribbean offer legendary sights and attractions.
Colorful Celebrations and Friendly Faces
The Caribbean is known for its parades, bars, nightclubs and parties (not to mention world-famous cocktails). When you want to retreat off of your luxury yacht charter, Caribbean shores and islands offer a world of fun to immerse yourself into. A few must-see events include: the St. Barth's Bucket (if you're into superyacht racing), the annual Carnival celebration and the St. Lucia Jazz & Arts Festival.
Amazing Wildlife and Adventure
If snorkeling in vibrant and colorful coral reefs, diving into underwater museums or parasailing over clear waters are some of the items on your bucket list, you can certainly get it all done during your visit to the Caribbean. You'll find a variety of unique adventures, from the Grenadines' underwater sculpture park, to the natural seaside baths in Virgin Gorda and hiking the Pitons in St. Lucia – the Caribbean gives you to plenty of chances to get outside and enjoy yourself.
Because the area is so close to the equator, the Caribbean offers warm weather to lounge in all year round. Feel pampered aboard a luxury yacht, and then feel calm while sinking your toes into soft, powdery white sand. Spas, rum cocktails, quiet and isolated beaches – charter guests can experience supreme relaxation in the Caribbean.
A Caribbean Yacht Charter Personalized for You
Are you ready to explore all that the Caribbean has to offer? Book a Caribbean yacht charter with Worldwide Boat. Our team of brokers is your yacht charter concierge – let us help you plan a vacation you'll remember forever. We offer:
Access to the Best Crewed Charter Yachts: Our network of luxury sailing and motor yachts, catamarans and mega-yachts offer you the best of the best in yacht charters. Browse our yacht directory now for inspiration. We regularly tour and inspect yachts to ensure crew and accommodations meet our clients' standards.
Itinerary Planning Expertise: Our brokers regularly visit the Caribbean to scout out new and undiscovered beaches, world-class restaurants, bumping nightclubs and snorkeling hotspots for our charter guests. Let us put our connections in the Caribbean and insider knowledge to work for you.
Complete Charter Planning: In addition to itinerary planning, we'll help you design the vacation of your dreams, including the arrangement of arrivals and departures, meal planning, managing payment, and reserving a yacht just for you.
A luxury, VIP Caribbean vacation is easier to organize than ever when you work with Worldwide Boat. Check out our vast network of yachts or simply contact us at 306-396-6996 to learn more. Before you know it, you'll be sailing along on calm, blue Caribbean seas.
Available Charter Locations in Caribbean
Grenadines
Leeward Islands