Willy T Floating Bar BVI
Visit Willy T on Norman Island on your luxury yacht charter in the British Virgin Islands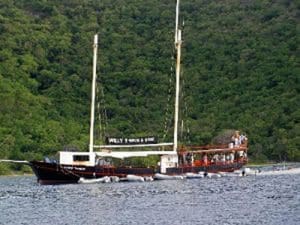 In 1985, Mick and Annie Gardner turned a 1935 Baltic Trader into a restaurant service. The wooden boat, dubbed Willy T, served them for ten years before developing a leak in the middle of the night and sinking. Come morning, the Gardners found their boat sunk on her mooring at Norman Island. While they attempted to resink her elsewhere to create a new dive site, the boat did not survive.
Mick and his son-in-law, Ewan Anderson, acquired a new, 100-foot, steel-hulled Willy T. This schooner had more room not only in the restaurant and bar area, but in the galley as well. The new Willy T was ready for business by early 1996. Today, the floating bar and restaurant remains a popular site for yacht charter guests to Norman Island in the BVI.
The Willy T is named after Willam Thornton (1759-1828), an educated physician, a painter, an inventor, and a self-taught architect. Thornton was born on Jost Van Dyke and is the "Architect of the Capitol" in Washington, D.C. While his design was received after the 1792 contest deadline, President Washington liked Thornton's entry for its "grandeur, simplicity, and convenience."
The Willy T floating bar is a place to go if you want to add an extra shot of excitement to your yacht charter in the BVI. By afternoon, there's typically a crowd on deck, and after the patrons get a little rum in their systems, things can really heat up.
The restaurant offers a variety of delicious options, such as Anegada Conch Fritters, Calamari Salad, Key Lime Pie, or entrees including steak, ribs, chicken, and fresh fish.