The Soggy Dollar Bar
Visit one of the most famous beach bars in the world, The Soggy Dollar Bar, the home of "painkiller"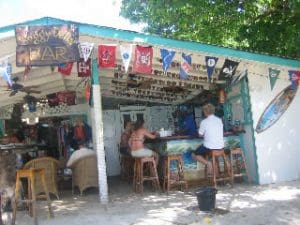 Located in the most beautiful, pristine location of White Bay on Jost Van Dyke, is the Soggy Dollar Bar. This nondescript destination lies on a flawless beach and is one of the most popular stops of yacht charter guests in the British Virgin Islands.
Regularly rated in the top five beach bars in the world, the Soggy Dollar Bar got its name from the type of currency it accepted. Patrons would sail into the bay, drop anchor, and dive overboard to swim to shore. They would pay for their order with the wet money in their pockets. The name seemed fitting to bar owner, Daphne Henderson, although today there's a clothesline available for drip-drying that soggy money.
Ms. Henderson is credited with created the famous Painkiller drink, a delicious mix of pineapple juice, coconut cream, orange juice, and Pusser's Rum. It is topped with a bit of nutmeg to complete the flavor fusion.
The atmosphere is one of lighthearted fun and laid back relaxation. Some choose to relax in a hammock, lounge on their yacht deck, or play a game of "hook the ring." Others prefer enjoy the cocktails and party under the perfect BVI sun. The locals call the area "bikini beach," simply because the afternoons find more and more boats dropping anchor and bikini-clad patrons heading across the beach to enjoy the fare at the Soggy Dollar.
In addition to Painkillers, "Mitch" the bartender can prepare a Raspberry Therapy or Nilla Vanilla drink. The menu includes typical bar food, such as burgers and fries. You may want to try the flying fish sandwich, which is unique to the Soggy Dollar.