BVI Catamaran Charters
Access more than 60 islands like never before while aboard a luxury catamaran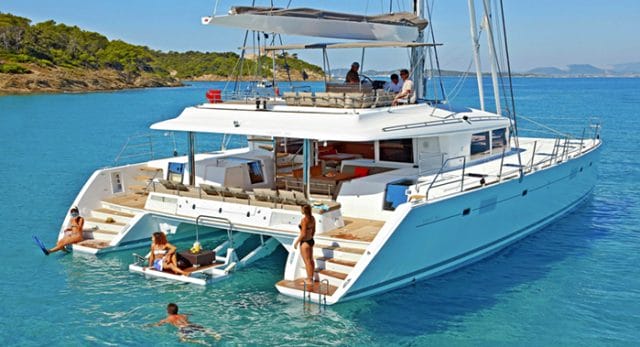 You're dusting off your passport and dreaming of your next vacation. Your visions include crystal blue waters, private beaches, and plenty of time spent away from the hustle and bustle of daily life. The British Virgin Islands is the ideal destination for your next sojourn, but now the question is – where will you stay during your visit? Opt outside of a standard hotel and choose to see the area in style – a charter boat is the ideal way to take in all the Caribbean has to offer.
If you're hoping to book a beautiful yacht in the British Virgin Islands (BVI) and want to view the islands efficiently while still living in the lap of luxury, it may be time to set up a catamaran charter. Catamarans with their two hulls make it a speedy, safe, and fun way to explore the plentiful islands, beaches, and inlets.
When you're booking you vacation in the BVI, renting a boat is most recommended, and renting a private catamaran offers several different advantages over other types of vessels.
Access More Shallow Coves and Bays
There are many different coves, capes, and shallow areas of the BVI. BVI catamaran charters allow you to go deeper toward the coasts and over to many of the areas a traditional mono-hull yacht would have difficulty accessing. For these islands, with so many different reefs, bays, and shallow areas to explore, this type of yacht is an ideal choice. Your captain will steer you toward underwater caves perfect for an afternoon of exploration, have access to bays with clear water in which you can view wildlife peacefully swimming down below, and pull up to secluded beaches where you won't need to interact with another soul for hours.
Safe, Steady Hulls That Reduce Seasickness
There are also many other logical advantages of a multi-hulled BVI catamaran charter rental: BVI charter guests can enjoy less seasickness and feel at ease with safer travel. Unlike a standard sailboat, a catamaran doesn't roll because of its dual hulls, which means the deck stays fairly level. This reduces the swaying motion that causes many passengers to feel seasickness. Also, they tend to handle rough waters more efficiently and can stay afloat even if a hull is pierced due to their several watertight compartments. While safety is a top concern for all vessels in the BVI, a crewed catamaran charter to British Virgin Islands gives nervous yacht charter guests one less thing to think about.
Faster Cruising for More Stops
The British Virgin Islands has more than 50 islands, and you'll want to see as many of them as possible during your Caribbean getaway. Catamaran charter boats are known for their impressive speed abilities, which means you can cruise more efficiently and stop to see more islands during your stay. BVI island hopping can be more complete because you'll not have to wait as long between stopping at beautiful islands.
Comfortable, Private Sleeping Areas and Incredible Views
When sailing on luxury catamaran charters, charter guests can relax, as their cabins are usually located in the hulls of the vessel and are more secluded from seating areas. On the other hand, after a short walk up few stairs, atop the hulls, you'll have gorgeous, panoramic views in said seating areas, which is essential when you're trying to soak up the glorious sunsets of the British Virgin Islands. It seems at first like you're right on the water!
 
Home Away from Home Your choice to reserve one of many outstanding catamaran charters to British Virgin Islands is largely in part because you want to see everything the local area has to offer. However, you also want to be pampered during your journey abroad. Chartered catamarans are stocked with all the comforting amenities you've come to associate with luxurious hotels. Enjoy delicious meals prepared by the boat's crew, spacious cabins that are well-stocked with toiletries and comfortable beds, and access Wi-Fi or watch television in the evening when you need some respite from the tropical sunshine.
Wonderful Water Sports and Amenities
What would a British Virgin Islands vacation be like without some fishing, kayaking, or stand-up paddle-boarding on perfect, turquoise waters? Catamarans come with a great selection of water toys and some even feature hot tubs. Typically, tours and excursions can be arranged through your crew, so you can learn a new skill or request to snorkel in your captain's favorite bay. Already a pro at paddle-boarding? Take one out for the afternoon and return home having spotted numerous tropical fish and savvy seabirds.
These are just a few of the perks of choosing to go with catamaran rentals. BVI charters to your specifications can be booked easily today. Contact Worldwide Boat us to learn more!