Turks and Caicos Yacht Charters
Turks and Caicos are a fantastic destination for diving yacht charters
Why are Turks and Caicos yacht charters so enchanting and exciting? The Turks and Caicos is an archipelago consisting of 40 islands and cays dotting the Atlantic Ocean. Of these, only eight are inhabited. The islands are known for their white sand beaches, clear, azure waters, and privacy.
On a yacht charter to Turks and Caicos, you will have access to fine dining, luxurious spas, and world-class resorts as well as vast stretches of empty, pristine beaches. The surrounding waters are a playground for diving, fishing, and seeing some of the most exciting marine life up close.
Turks and Caicos Yacht Charter Highlights
World class scuba destination
White sandy beaches
Clear azure waters
Vibrant coral reefs
Best Time to Charter in the Turks and Caicos
Turks and Caicos are a great yacht charter destination year-around with spring and early summer being the most popular time for charters.
Turks and Caicos Yacht Charter Itinerary
Offering wonderful diving and visiting peaceful, pristine beaches, a Turks and Caicos yacht charter is a welcoming escape to paradise for everyone. With waters simply overflowing with captivating dive sites and islands offering unique experiences, an itinerary encompassing these underwater delights and on land activities is guaranteed to impress.
DAY 1: Providenciales
Known as the gateway to the Caicos Islands there is no surprise that Providenciales or Provo more affectionately, is the starting point for a foray into the Turks and Caicos. An ever-expanding island full of luxurious amenities including a golf course, casino, shopping centres and excellent restaurants, Provo is also home to an international airport and several marinas. This island has some of the very best snorkeling and diving in the Caribbean so for those who like to explore the world beneath the water, it is a must-see.
DAY 2: South Caicos
Head to South Caicos, cruising around the north of the islands where the water is deeper. This is the longest passage your itinerary, taking you past many islands and cays with beautiful beaches. Spend the night on the southern end of the island, between South Caicos and Long Cay. While you are there, enjoy snorkeling, whale watching (January to April), beach barbecues, tour the historic village and have your chef prepare some of the plentiful lobster (in season), conch and fish from the fish co-op.
DAY 3: Grand Turk
Grand Turk is the capital of the Turks and Caicos Islands and home to the only lighthouse in the country. One of Grand Turk's main attractions is diving. There is an outstanding protected coral reef, which drops to 8,000 feet and is close
enough to shore for beach dives.
Spend some leisurely time strolling the streets, visiting the National Museum and enjoying the colonial spirit of this outpost where time seems to have almost stood still. During whale watching season, you watch the humpback whales pass from Grand Turk's shores as well as from the surface of the water. Take a short tender ride (1 mile or so) to Gibbs Cay where you can swim with the friendly stingrays right from the beach.
DAY 4: Salt Island
Salt Cay is the smallest and least populated island in the Turks and Caicos Islands. Donkeys, which use to be used for pulling carts, now roam freely all over the island. There are no paved roads and very few cars.
Visit the ruins at Taylor's Hill and discover one of the most breathtaking views on the island. This is an ideal spot for whale watching during January and April when migrating humpback whales populate the azure waters of Salt Cay.
Divers can dive a 17th century British warship.
DAY 5: Big Sand Cay
The next recommended destination stop is the uninhabited island of Big Sand Cay. This small island is a designated bird sanctuary and also great for snorkeling.
Take a hike on this small Island to explore and then relax on some of the best beaches in the Islands.
DAY 6: French Cay
French Cay boasts some of the most amazing coral and marine life in the Turks and Caicos which makes it an absolute dream for scuba diving and snorkeling enthusiasts.
Molasses Reef is home to what is believed to be one of the oldest shipwrecks discovered in the New World. It is also a peaceful sanctuary for migratory birds.
DAY 7: West Caicos
Set course for West Caicos where there are many excellent dive sites off the west coast, as well as several moorings. Dive the wall, which drops off some 7000 feet, where large sea life is often seen. Topside depth range is between 40 to 90 feet, allowing diving for a wide range of divers from beginners to experts.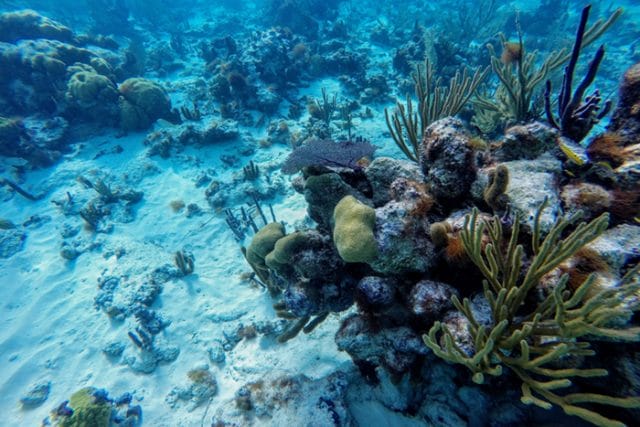 DAY 8: Providenciales
A short morning cruise will put you back to the south shore of Provo to get in those last few hours of playing with all the toys. If you have time before your flight back home, stroll the streets of Providenciales and do souvenir shopping of local arts and crafts.
Things to Do & See in Turks & Caicos
There are a number of activities and things to do on Turks and Caicos yacht charters. Here are some of the reasons why you should consider it for your next getaway.
40 Islands and Cays to Explore
Adventure awaits on Turks and Caicos' 40 islands and cays. Head ashore and go horseback riding along the beach. Visit the Middle Caicos Caves, the largest chain of limestone caves in the Caribbean, and don't forget to stop by Mudjidin Beach to see the breathtaking limestone cliffside. History lovers will want to see Cheshire Hall, the ruins of a former cotton plantation that have been carefully preserved by the National Trust. Over on Little Water Cay, right off Providenciales, is the Turks and Caicos Iguana Sanctuary, an uninhabited island that is home to Rock Iguanas.
Clear Turquoise Waters Await You
Turks and Caicos has some of the most beautifully colored waters in the world, and there's a reason for those vibrant blue hues. Light reflects off the white, sandy sea bottoms and the fine white sand particles suspended in the water, resulting in the the azures, aquas and turquoises of the shallow waters. In photos, the water almost looks unreal, but the colors are even more vivid when you see them in person.
Turks and Caicos Has the World's Best Beaches
The sugar sand beaches of Turks and Caicos have been consistently rated as the most beautiful beaches in the world by both Conde Nast Traveler and TripAdvisor. Surrounded by the world's third largest coral reef, the beaches are known for their powdery fine sand, lack of crowds, clear turquoise waters, and gentle rippling waves.
Vibrant Coral Reefs
Turks and Caicos has some of the finest coral reefs and walls in the world, teeming with exciting aquatic life. You can dive to the reefs or explore one of several historic wrecks. Fishing enthusiasts in your yacht charter party will love the area's deep offshore waters, where they might catch tuna, wahoo, or blue marlin.
Turks and Caicos Yacht Charters Offer the Best Diving in the Caribbean
Turks and Caicos yacht charters offer some of the best scuba diving in the world. Divers can venture below the waves to the world's third largest barrier reef, and the clear waters ensure optimum visibility so you can see the exciting marine life. The water is warm year-round and there's an average of 350 days of sun per year. Whether you're a beginner or an expert driver, there is a reef, a wall, or a shipwreck to discover.
The Columbus Passage is a 22 mile wide channel that separates the Turks from the Caicos, and is an underwater highway for migrating species like rays, turtles, dolphins, and whales. Much of the coast is protected by the National Parks Ordinance, which preserves these impressive dive sites.
Explore Amazing Sea Life and Wildlife
The limestone plateaus of the Turks bank drops off into deep waters, making it the perfect spot to see spotted eagle and manta rays, dolphins, sea turtles, and even whales from the comfort of your yacht. The marshes and salt ponds are a refuge for local and migratory birds, including great blue herons, flamingos, osprey, pelicans and egrets. The Turks Island Iguana, a protected species, can be seen on many of the deserted islands.
Whale Watching
One of the most spectacular sites you will ever see is the humpback whale migration from January to April each year. Head to the Turk Islands Passage near Salt Cay and Grand Turk to witness these gentle giants breaching an arm's reach from your yacht. Each year, the whales migrate from the northern Atlantic to the Caribbean to mate and give birth. You and your group will always remember seeing a whale calf with its mother, or hearing the song of the male humpback.
World-class Spas, Resorts and Restaurants Abound
Turks and Caicos is home to an incredible selection of resorts, spas and restaurants.
Providenciales has large full-service resorts with a wide array of amenities. Grand Turk has more quaint inns. Take advantage of golf, dining, diving, water sports and more that these resorts have to offer either as a day excursion during your Turks and Caicos yacht charter, or at the start or end of your journey.
For the ultimate indulgence, book an afternoon at one of the many spas on Turks and Caicos. Allow yourself to be pampered with massages, facials, or salt scrubs. Follow up the treatments with a dip in their pools, or a nap on the beach. If you don't want to leave the comfort of your yacht, some of these spas offer mobile services that will come to you.
Turks and Caicos is gaining renown as a destination for connoisseurs of fine food. Providenciales has a bustling gourmet food scene with more than 50 restaurants, most located in the Grace Bay region. Casual outdoor eateries are also plentiful, offering local and international cuisine with scenic views. End your day with beachside cocktails while you watch a stunning Caribbean sunset.