Whitsunday Islands Yacht Charters
Spend a week exploring Whitsunday Islands onboard a charter yacht
The Whitsundays yacht charters offer the ultimate experience when it comes to adventure and relaxation. Sailing, swimming, diving, skydiving, spas, and more await charter guests.
If you're considering a yacht charter in the Whitsundays, here is a sample one-week itinerary that will allow you to experience all that the region has to offer.
Hook Island – Nara Inlet and Butterfly Bay

Nara Inlet on Hook Island is a popular choice of first night anchorage. It is an easy spot to reach and a well-sheltered spot to adjust to life on your yacht. You will depart Abell Point Marina and travel through a long, narrow fjord and across the Whitsunday Passage. Once you arrive at Nara Inlet, venture to the Aboriginal Caves and see the rock paintings and the wild goats that inhabit the island, or hike to the waterfall surrounded by tropical palms and Hoop Pines. Next, head around Pinnacle Point to Butterfly Bay for a swim or snorkel.
Whitsunday Island

Sail down the west coast of Hook Island across the Whitsunday Passage to Whitsunday Island, the largest in the group. Anchor at Cid Harbour, an all-weather anchorage located close to several sandy beaches. Hike from Sawmill Beach to Whitsunday Peak and take in the spectacular view, or opt for a more casual stroll to Dugong Beach.
Hamilton Island

Hamilton Island is a modern resort with pristine beaches, a busy marina, bars, restaurants, and shops. Enjoy all of the available water sports, or head below the surface of the water and discover the coral and marine life. If you're a golf aficionado, the Hamilton Island Golf Club is the only is the only Australian 18-hole championship course on its own island.
Cumberland Island – Whitehaven Beach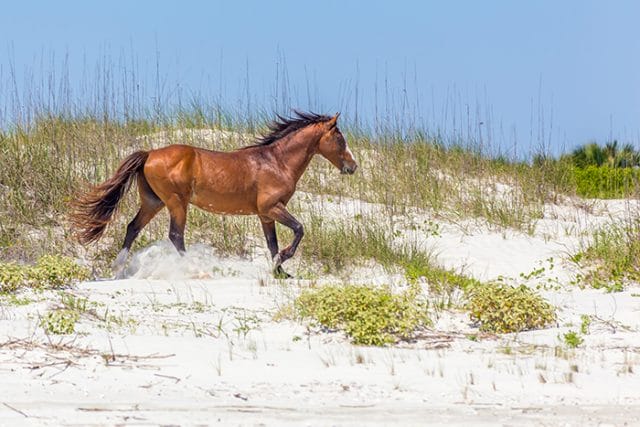 Whitehaven Beach on Tongue Bay is the ultimate escape, with 6km of sparkling white silica sand and no buildings in sight. The water is crystal clear, and ideal for snorkeling and swimming. Enjoy a long walk to the platform lookout with its picture-perfect view of Hill Inlet and its whirling, twirling underwater sand. At the end of the day, enjoy cocktails on the aft deck and watch the stars come out in the southern sky.
Border Island

Just off the northeastern coast of Whitsunday Island is Border Island, famous for its snorkeling. Cataran Bay is ranked as one of the top three snorkel spots in the Whitsundays. It's a small, mountainous island with lush green eucalyptus forests that meet golden sand. It's a designated Green Zone with a fully protected reef teeming with exotic underwater life, including red snappers, butterfly and angelfish. For more experienced divers, head to where the shelf drops to observe Maori wrasse, rays, and reef sharks, as well as caves and ledges.
Hayman Island

Head over to Stonehaven Anchorage or the 5-star Hayman Island Resort's marina for the night. Snorkeling here will bring you up close and personal with some of the most captivating fish and corals. Sunbathe on the beach or take a dip in the clear water, or walk up to Dolphin Point Lookout and enjoy the sunset view.
Hook Island – Manta Ray Bay

Your final spot, Manta Ray Bay, circles back to Hook Island's north coast. This area has some of the best snorkeling and diving in the Whitsundays, with a range of underwater valleys, caves, and swim-throughs leading all the way to the seafloor. Hard and soft corals are home to abundant marine life, including Maori Wrasse and Manta Rays. It is close to Airlie Beach, and you can anchor very close to the bay for the day.
Why are yacht charters in the Whitsunday Islands so special?
Made up of 74 islands, only seven of which are actually inhabitable, the Whitsundays archipelago is an oasis of beautiful views and stunning natural surroundings, just a perfect location for luxury yacht charters. Dotting the colorful Coral Sea, surrounding these islands, you'll find every shade of blue you can imagine.
Adding to its allure, these waters are as calm as they are colorful. In fact, sheltered by the Great Barrier Reef, the waters are calm and absolutely perfect for yacht charters all year round.
As a prime yacht charter destination, the Whitsundays are most known for their beautiful beaches, calm waters and dazzling sea life. Perfect whether you're above or below the water, when you're done diving through the reefs, come up for air and relax on one of the Whitsundays' sandy shores. Whitehaven Beach, with its soft silica sands, is undeniably the most popular in the Whitsundays, and Arlie Beach acts as a major coastal hub and a gateway to the rest of the Great Barrier Reef. Most of the Whitsunday Islands are uninhabited, and several even have back-to-nature beach camping and bushwalking. The largest island is, of course, Whitsunday Island, the home of Whitehaven Beach, and is a popular place for yachts to go to explore countless coves and inlets.
Here are just some of the reasons a Whitsundays yacht charter will make for a wonderful vacation at sea:
You can whale-watch on your Whitsundays yacht charter
From June to September every year, whales swim through the waters of the Whitsunday Islands on their northern migration. During this time, you'll see whales of all sizes jumping and playing with one another in the water. As an added bonus, whales choose the warm, calm waters of the Whitsundays as the perfect place to birth their calves, so expect to see babies, as well.
Whitsundays offer smooth sailing all year round
Because there are so many islands, the waters that surround the Whitsundays have constant barriers that force them to be calmer than other parts of the world. As a result, sailing through the Whitsundays is possible all year round, as is snorkeling and scuba diving.
Whitehaven Beach has some of the softest sand in the world
Whitehaven Beach is covered in pure, silica sand; a sand so soft and unique that it is used to polish jewelry. Other beaches Whitsundays do not have sand this fine. Geologists believe the sand on this beach drifted to the island millions of years ago, and over time, ice ages and fresh water washed away its impurities — leaving only the purest sand in its wake. Famous for both its sand and views, Whitehaven Beach is constantly regarded as one of the most beautiful beaches across the globe.
This is one of the best places in the world to go scuba diving
Australia is already known for its scuba diving, and the Whitsundays have some of its best dive spots. While there, definitely take advantage of it. You'll be able to see colorful coral reefs, schools of vibrant fish, sea turtles and a wealth of other friendly creatures.
You can see Hamilton Island Race Week
Hamilton Island is one of the most developed and populated islands in Australia, and has become a haven for those who want to take day trips to the Great Barrier Reef or Whitehaven Beach. Each August, this modern island plays host to Hamilton Island Race Week, an annual event that brings together hundreds of yachters from around the world to race their 30-foot boats, motor yachts, and billion-dollar super yachts. Attracting thousands of yachting enthusiasts from across the globe, this is one of the biggest boating events of the year.