Great Barrier Reef Yacht Charters
Great Barrier Reef Yacht Charter Itinerary is Perfect for Divers and Snorkelers
The Great Barrier Reef is an Australian gem, one of the world's most captivating natural wonders and a breathtaking destination for yacht charters.
The largest coral reef on the planet, it is home to an abundance of marine life in its more than 3000 individual reef systems, coral cays, and islands with golden sand beaches.
Cairns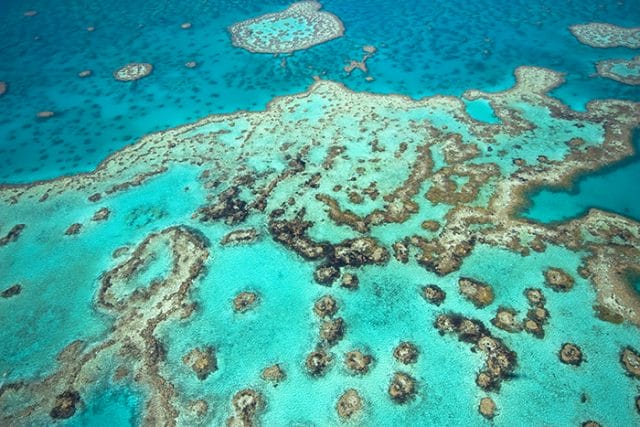 Your journey begins in Cairns, a modern, sophisticated city that is the gateway to the Great Barrier Reef. You will cruise past Snapper Island and the Daintree River, taking in the awe-inspiring view of rainforest-clad mountains as well as the reef itself. You'll stop at Mackay Sound Cay, which is a great spot for bird watching or a short jaunt below the surface of the water, whether snorkeling or scuba diving. Cap off your day in the Coral Sea by watching the sun set behind the Alexander Mountain Range with a refreshing cocktail in hand.
Opal Reef

Opal Reef is your base for exploring the outer regions of the Great Barrier Reef. It is a large, mostly shallow reef near the edge of the continental shelf, and its crescent shape protects guests from the inds. These conditions combined with the clear water make for excellent snorkeling among the diverse habitats. Rayban, located halfway up Middle Opal, has shallow water teeming with colourful fish including clown anemonefish, spinecheek, and Great Barrier Reef anemonefish. It also has staghorn coral forests, brightly coloured giant clams, and dancing schools of damselfish. You might also spy a stingray or a lizardfish.
Other areas to explore are South North Opal with its gardens of plate coral, Sandbox with its boulder and staghorn corals, Bashful Bommie where the reef edge meets the deep ocean channel, and Beautiful Mooring with colourful orange and green anemones. The sandy patches throughout Opal Reef are home to sea cucumbers and sand perch, while the deeper edges hold titan triggerfish and stingrays.
Ribbon Reefs

The famous Ribbon Reefs have some of the best snorkeling, scuba diving, and fishing on the outer reef, and the inner reef is great for sunset walks along the beach, fishing, swimming, and sunbathing. You will be immersed in the sounds of the reef and the sea from the moment you arrive. Dive at Steve's Bommie and see the isolated pinnacle that attracts large schools of pelagic fish. Snorkelers will love the large coral heads within the lagoon, making you feel as if you're swimming in a valley of colourful tropical fish. Andy's Postcard is another dive spot to explore, with an abundance of underwater life. You might even see migrating minke whales that swim right up to your yacht's stern. End your day with the sunset and stargazing over cocktails.
Pixie Pinnacle

Situated off the coast of Cooktown is Pixie Pinnacle, a pyramid of coral and marine life with a peak that sits two metres under the water's surface. The crystal clear water is home to vibrant marine life, including hard and soft corals, sponges, lionfish, moray eels, anemones, surgeonfish, and barracuda. Dive down the pinnacle's sloping edges and discover this magical underwater world.
Lizard Island

Lizard Island is referred to as the "Jewel" of the Great Barrier Reef, with an exclusive resort and more secluded beaches than you can imagine. Follow the State Park nature walk to the Blue Lagoon, a sheltered, private lagoon surrounded by white sand beaches. It's perfect for an afternoon picnic and swim. Then head over to Cook's Lookout for a view of the reef, and to see where Captain James Cook first viewed the scenery. From Lizard Island, you can head out on a deep sea fishing expedition, or take a scenic helicopter ride to truly appreciate the colours of the reef.
Cooktown

Cooktown's history spans more than two centuries, and is the site where Captain James Cook landed. In fact, you can see the anchor and cannon recovered from the reef that wrecked Cook's ship, The Endeavour. On this stop, you can dive for crayfish or troll for large billfish, sunbathe on the pristine beaches, discover tropical lagoons and waterfalls, or take advantage of the water sports offered by your yacht. The Grassy Hill Lookout is a popular spot with a panoramic view of the countryside and beaches.
Port Douglas

Port Douglas, 70km south of Cairns, has become a holiday hotspot for visitors from around the world. It has a quaint, friendly ambiance and old-fashioned charm with shaded streets. Start your day with a dip in the shallow turquoise water. Venture to Daintree National Park, a world heritage rainforest, or explore Mossman Gorge's clear water and dedicated walking track. For a luxurious escape, book a treatment at Port Douglas' day spa.
Cairns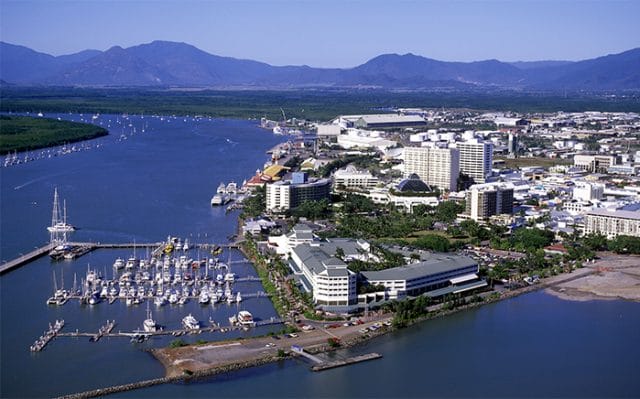 Return to Cairns and explore the city, including its restaurants, boutiques, art galleries, botanic gardens, and even a casino. Take a stroll and admire the architecture, which is a mix of traditional Queenslander style against more modern designs. You'll also want to visit the Cairns Esplanade, an area of landscaped parkland with a busy thoroughfare and restaurant strip on one side, and a natural harbour inlet on the other.
Great Barrier Reef Yacht Charters are Absolutely Stunning
Stretching nearly 1,250 miles, this natural wonder takes up a large portion of Australia's eastern coast, from the Tropic of Capricorn all the way to Papua New Guinea. Named a UNESCO World Heritage Site, it is home to one of richest underwater ecosystems on the planet — an awe-inspiring part of the world composed of 2,900+ coral reefs and more than 900 islands. Make sure you include the Great Barrier Reef to your Australia yacht charter itinerary. The Great Barrier Reef is often referred to as Australia's "Blue Outback" because of its thriving populations of colorful fish, sea life, turtles and birds.
Don't know where to start? Cairns is inarguably the best entry point; so anchor there, and take day trips to see the rest of this beautiful part of the world. While in the Great Barrier Reef, go snorkeling or scuba diving, swim through the corals of the Frankland Islands, or take your tender onshore to walk along the beaches of Fitzroy Island and visit the rainforests, lakes and waterfalls of the Atherton Tableland. There's so much to do and see here that no matter where you go, you can't go wrong.
Why Charter a Yacht in the Great Barrier Reef?
You can combine history with the great outdoors at Babinda Boulders
Babinda Boulders is a both a renowned swimming hole and a sacred Aboriginal site. Just a short drive from Cairns, and surrounded by lush rainforests, it is home to large boulders, quiet creeks, and pools of cool water where people can swim. The water originates from Mount Bartle Frere, Queensland's tallest mountain, which you can see just beyond it.
Go island-hopping through the Whitsunday Islands
The Whitsunday Islands — an archipelago with turquoise waters, coral gardens and palm-fringed beaches — are truly unique, and only seven of its 74 islands are actually inhabitable. At the core of these islands is Arlie Beach, a resort town that has become popular for being both a gateway to the Great Barrier Reef and a starting point for multi-day sailing trips out to Hamilton Island. When onshore, visit Hamilton Island's famed lagoon, beach and parks, and head into town for delicious cuisine, quiet bars and a vibrant nightlife.
Of course, you can (and should) go for a dive
There are many dive spots in the Great Barrier Reef, but one of the most popular areas for diving is Townsville. Perfect for any level diver, Townsville has a range of dive spots that show off the Reef's beautiful sea life: like clownfish, purple anthias, sea fans, species of butterfly fish, surgeon fish, parrot fish, trigger fish and more.
There are plenty of landscapes to see above ground, too — like Kuranda, a village in the rainforest
Known for its location, Kuranda has been attracting elite, adventurous travelers from across the globe for centuries. Home of the Barron Falls, which are beautiful in their own right, Kuranda is now the source of a thriving arts and culture scene. From relaxed local markets selling local handicrafts, to the spectacular views fueled by the rainforest that surrounds it, Kuranda is a buried treasure in the heart of Great Barrier Reef.