Alaska Charter Itineraries
Explore the wild Alaska with two exciting charter itineraries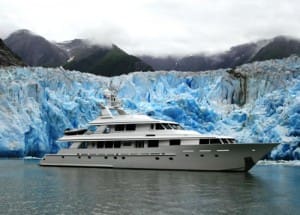 Chartering in the Pacific Northwest through the Inside Passage of southeastern Alaska is a one-of-a-kind opportunity. You'll enjoy cruising past calving glaciers where giant icebergs splash into the water below. You'll sail through narrow fjords and in fast-moving currents all while enjoying the breath-taking scenery that is Alaska.
While on land, you can explore the rainforest, walk the deserted beaches, dine on fresh fish and seafood, or hike the boardwalk trails. You will be stunned at the sheer number of whales, bears, and birds as well as how close you truly can get to these amazing creatures.
With many breathtaking sites to see, you have a choice of two itineraries for your Alaska charter:
Juneau to Juneau Itinerary

A week long charter from Juneau to Juneau will give you plenty of time to tour the state capital, see the totem poles in the village of Hoonah, and get close to the SumDum Glacier. You'll pass so close to waterfalls that you could feel the cold drops on your skin and be caught in the rainbows created from the sunlight. You'll have a front-row seat to watching the salmon at the Hidden Falls hatchery. Click for Juneau to Juneau itinerary
Juneau to Sitka Itinerary

A week charter from Juneau to Sitka will take you to the beautiful Tracy Arm where the North and South Sawyer Glacier. You'll indulge in intimate views of sea lions and brown bears on Admiralty Island and soak in the warm waters of Baranof Warm Springs. Click for Juneau to Sitka itinerary
Alaska yacht charters bring you in contact with living history, natural beauty, and cultural experiences. Make this vacation an unforgettable adventure.