Alaska Yacht Charters
Explore the breathtaking scenery of the great wild on your Alaska yacht charter
Discover the magic of southeastern Alaska's Inside Passage aboard one of many unforgettable Alaska yacht charters. There is nothing like experiencing breathtaking vistas first hand as you cruise through narrow fjords and past towering blue glaciers.
From its vast landscapes to its labyrinth of wildlife, Alaska is where you go to connect with nature. It is home to a UNESCO World Heritage Site, Wrangell-St. Elias National Park, and Admiralty Island, which has the largest concentration of brown bears in the world.
Chartering a Private Yacht in Alaska
There's no better way to truly experience Alaska than onboard a luxury yacht. Here are top 5 reasons why you should book your Alaska charter and experience the magic first hand:
1. From a yacht you can witness wildlife in its natural surroundings
Cruise through ancient forests and see wildlife in its natural habitat. Look for majestic creatures like black bears, grizzly bears, deer, and bald eagles on land. As your private vessel glides through the water, keep your eyes peeled for signs of aquatic wildlife. Depending on the time of year you're visiting, you'll be privy to a variety of whales in the water, such as humpback whales, orcas, and you might even be lucky enough to catch a glimpse of a rare blue whale. More commonly, while you're aboard one of our Alaska charter boats, you might spot porpoises, harbor seals, sea lions, or sea otters on the water.
As your private yacht slowly passes Admiralty Island, keep your binoculars ready in anticipation of spotting giant brown bears, a species which inhabit the island. Along the shoreline, you may spy a black bear picking berries from a bush or a gracious moose ambling to the water for a drink.
2. Alaska will surround you with nature's most spectacular beauty
The scenery in Alaska is unmatched. On Alaska yacht charters you can see ice-capped mountains surrounded by lush forests with rushing waterfalls cascading into the deep blue ocean waters. You and your guests can kayak to a clear mountain lake that is fed by a melting glacier. Your Alaska yacht charter will take you to Glacier Bay, Misty Fjords, and Baranof Warm Springs.
Alaska's best attraction is most definitely a natural one: the outdoors. Home to the largest national park in America (Wrangell-St Elias), the largest national forest in America (Tongass), and the largest state park in America (Wood-Tikchik), this part of the world is where travelers spend 20-hour days – because in Alaska, it's rarely dark – climbing mountains, trekking through five-mile-wide glaciers, paddling canoes, and fishing for salmon, which is aplenty.
In Alaska, you can step foot in unimaginably beautiful places where, quite possibly, no one has ever walked before. America's largest state is a treasure trove of natural gems just waiting to be discovered; and when you're there, you might just be the one to dig one of them up.
3. On your Alaska yacht charter you can get up close and personal with a glacier

Most of the time your vacations include warm tropical waters, but this time around you're in for something completely different. Nothing is more magical than cruising past towering glaciers while icebergs float on the water and chunks of frozen water crash into the sea below. Inside Passage glacier charter will bring you past walls of ice, stunning waterfalls, and wildlife sunning on floating chunks of ice as they take a break from splashing around.
The Passage – which runs from Juneau and Glacier Bay in the north, to Ketchikan in the south – puts on a dazzling display of ice. The region is home to some of Alaska's largest, most picturesque and, and awe-inspiring ice crags, and exploring the Passage's glaciers offers charterers a number of firsts. Like seeing a glacier "calve" and drop a 10-story berg into the sea, or gawking at the sheer enormity of a 400-foot high, 2-mile wide mountain of ice. Bottom line, if you fancy yourself an explorer, chartering a yacht in Alaska will let you live your dreams.
Which glaciers are must-see destinations on Alaska yacht charters? These four – which sit near many of Alaska's top charter destinations like Juneau and Glacier Bay – offer a chance to witness nature in all its majesty. Just be sure to bring your best camera!
Tracy Arm Fjord
About 70 miles south of Juneau, you'll find Tracy Arm Fjord, a narrow, inlet with towering, craggy walls. The fjord is awe-inspiring all by itself, with waterfalls and national protected forests along the way. If you're lucky, you might see a black or brown bear, harbor seals, or wolves in the adjacent Tracy Arm-Fords Terror Wilderness.

But the real reason to visit is the fjord's glaciers. Tracy Arm is home to some of Alaska's most photogenic glaciers, including Sawyer Glacier. Sawyer is an active tidewater glacier – which means large chunks "calve" off. And when you see it up close, you'll have the chance to witness one of these massive bergs breaking off and crashing to the sea below, as it's known to calf regularly.

Glacier Bay National Park

If you're in search of glaciers, you'll find plenty in Glacier Bay National Park. Located north of Juneau, this UNESCO World Heritage Site offers many spectacular sights to see, including 7 active tidewater glaciers.

Glacier Bay is home to some of the Alaska's largest active glaciers. Grand Pacific Glacier – for instance – sits at the back coast of the bay. Grand Pacific measures two miles wide, with ice walls towering 15 stories. Grand Pacific's neighbor, Magerie Glacier, though is star of the show.

Margerie is majestic. With an ice face measuring 25 stories tall, watching the glacier drop ice into the bay will take your breath away. Beyond the glaciers, the National Park is also an incredible spot for whale-watching, kayaking and other water sports.

Hubbard Glacier

Hubbard Glacier – north of Glacier Bay – is North America's largest tidewater glacier. This is a massive giant you have to see to believe. Measuring 6+ miles wide, the glacier is continuing to grow, or "surge," and Hubbard towers 40 stories tall.

The glacier is known for its calving. In fact, icebergs measuring 10 stories tall commonly break off and crash down, in an explosive display of natural beauty.

Hubbard is also one of most beautiful glaciers in Alaska, with jade blue and frozen sapphire hues. Not only does it wow with its vastness – it's also a treasure to see up close. But the journey is also half the fun. The Disenchantment Bay and journey into the fjord put on a show of wildlife. The fjord is home to seal and whale populations, and the region is well-known for its fishing.

Mendenhall Glacier

You can't visit Juneau without a trip to Mendenhall Glacier. Located just 10 miles from downtown Juneau, the glacier is part of the Juneau Icefield, a photographic panorama of steel blue ice that's been here since the last Ice Age.
Not only is the journey out to Mendenhall worth the trek, but you'll be welcomed by natural beauty along the way. The glacier is surrounded by nearly 6,000 acres of protected forest, and charterers regularly see wildlife and stunning landscapes when visiting.
4. Alaska is a bird-watcher's paradise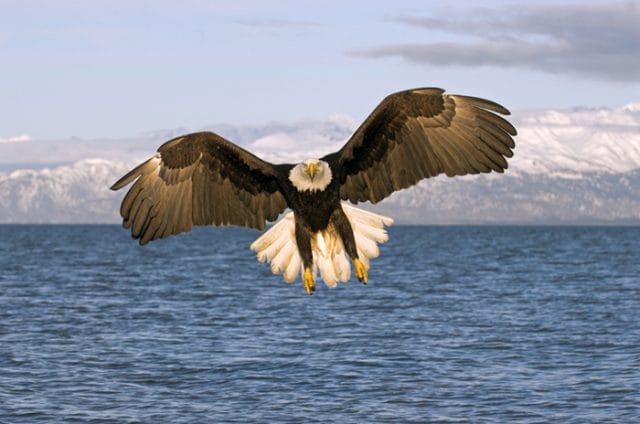 In addition to the numerous types of wildlife to be found on land and sea, you'll find tons of animal activity in the Alaskan sky. Southeast Alaska has a wide array of bird species, including many varieties that migrate through the region. Each autumn and spring sees the largest gathering of bald eagles in the world, a site not many could dream of witnessing during their lifetimes. Puffins, known as the "sea parrot," stand out as some of the region's most vibrant birds, with their black and white bodies, brightly-colored bills, and webbed feet.
5. Alaska has an amazing history and culture

The culture of Alaska Natives is unique and memorable. Attend art exhibits, tour museums, and visit cultural centers on your yacht charter vacation to learn about the Tlingit, Haida, and Tsimshian people.
Ketchikan is a cultural center with sites such as the Tongass Historical Museum and the Totem Heritage Center, which has an impressive collection of totem poles. Misty Fjords National Monument was created by an ancient glacier and features native rock art on the monument walls accented by gorgeous waterfalls. Wrangell, the third-oldest city in Alaska, includes the Chief Shakes Tribal House historic site on Shakes Island and Petroglyph Beach State Historic Park. Petersburg is a quaint fishing town that ties Alaska to its Norwegian roots, in which you can explore how the Scandinavian country has left its mark on the state.
Best Time For Alaska Yacht Charters
Alaska holds major appeal for those looking to reserve a private yacht, but its greatest shortcoming is its extreme weather, making charter season only a few months long. Book your Alaska yacht charter from mid-May through mid-September, when the daylight hours are longer and temperatures are pleasant.
Because of its location on the curvature of the Earth, Alaska receives substantially more daylight hours in the summer months than in the dark winter months. On June 21st, the longest day of the year, the southeast portion of the state gets as many as 18 hours of daylight and only 6 hours of night each day. Even in May and September, one can expect longer days than in the other continental United States.
During late May through late July, peak season, guests can expect daylight to linger past 10:00 at night and rise long before they do!
While visions of Alaska may bring to mind ice and snow, the summer temperatures in Alaska are extremely pleasant with highs generally between 70– 80° Fahrenheit. Nights are comfortably cool as the temperatures drop to the 50s, meaning you can spend your evenings outdoors or on the deck of the yacht, but you will need a jacket.
Aside from longer days and warmer temperatures, the summer months are the best time to visit because Alaska's landscape is in full bloom. The wildlife is active, flowers are blossoming, trees are filled with new growth, and everything and everyone seem active and alive – even in the middle of the night. The warm months in Alaska make for a magical and scenic escape.
Book Your Luxury Yacht Charter in Alaska
Reserving private Alaska yacht charters, it is not simply signing up for your next vacation – you're preparing for a cruise that you'll remember for a lifetime. Whether you're traveling alone, with your significant other, or with the entire family in tow, you'll find an opulent vessel that suits your travel needs here on Worldwide Boat. Book your chosen yacht charter today for your upcoming Alaska voyage, and brace yourself for a once in a lifetime getaway.