How much does it cost to charter a yacht?
A comprehensive guide to yacht charter prices (with a checklist)

Planning a yacht charter is an exciting task, but it's also a challenge – especially when beginning to estimate cost. Yachts have a base price, which is the weekly rate to rent the boat. But in addition to base costs, what other expenses, like food/drink, local taxes or fuel, are charterers required to pay?
The good news: It's easy to grasp the basics of yacht charters pricing. And this can help you more accurately estimate the cost of your next once-in-a-lifetime vacation. A few questions you might be considering:
What is the average charter cost?
What do charter rates include?
Why do rates sometimes include food, drinks, and fuel, but sometimes not?
What additionally fees can I expect to pay?
Ultimately, the cost of a yacht charter is dependent on a number of factors, including the type of yacht, the charter destination, local taxes, and the base cost. (If the yacht has a celebrity owner, well that too, can add to the cost.)
Therefore, yacht charters have a wide range of base prices. That's why charters can cost from $10,000 per week on smaller sailing yachts and catamarans, up to $150,000+ per week on the most luxurious motor superyachts.
What else can you expect to pay? This overview – a part of our planning resource, the Charter Advice Guide – offers an in-depth look at charter yacht costs.
Yacht Charter Price Structure: "All-Inclusive" vs "Plus Expenses"
In the world of yachting, two types of crewed yacht charters are available to you – "All-Inclusive" and "Plus Expenses" charter experiences. What do these terms mean exactly? Here's a quick look:
All-Inclusive Yacht Charters – Some charters (mainly catamaran and monohull charters in the Virgin Islands) offer all-inclusive rates. That means rates are based on the number of guests, and they include all food and drink, water sports and fuel costs. Dockage and taxes, though, are usually charged separately.
Plus Expenses Charters – Rates for larger motor yachts do not include running expenses, which must be paid separately. For these luxury charters, the base price is for the yacht only. Additional expenses, i.e. food, bar, fuel, dockage, port taxes and other expenses, are charged separately. Most frequently, the running expenses are paid by an Advance Provisioning Allowance, or APA, which is typically 35% of the base price; this is an amount that's paid prior to charter.
Our chart below offers a quick overview of what's included in both of these types of charters.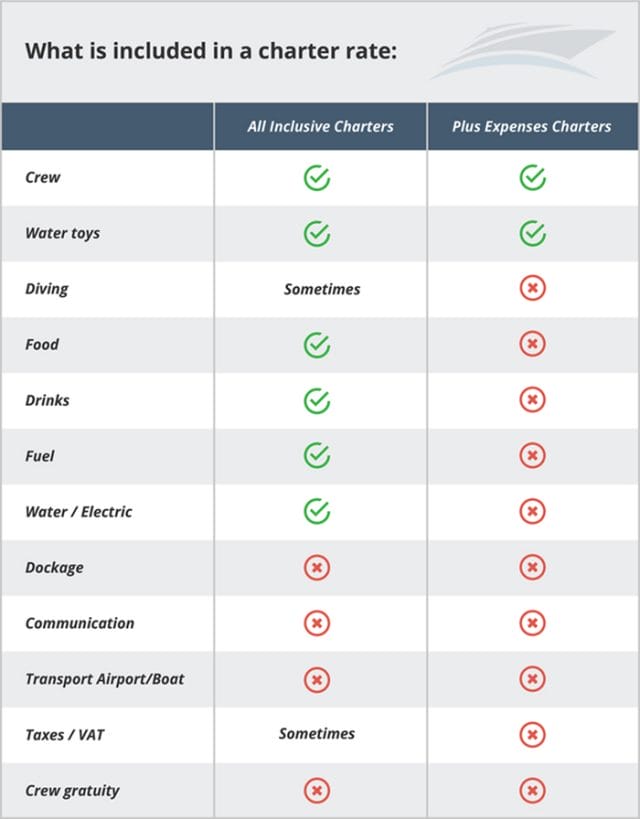 Average Yacht Charter Cost: Base Prices
What can you expect to pay for a catamaran, a sailing vessel, or motored yacht? Here's a quick overview of the average cost to rent a yacht (not including extra expenses) for the most common types available:
| Average Weekly Sailing Charter Rates | Sailing Yacht |
| --- | --- |
| $10,000-$20,000 | Sailing Boats Under 80ft |
| $20,000-$50,000 | Sailing Boats Between 80ft – 120ft |
| $50,000-$100,000 | Sailing boats between 120ft and 150ft |
| $100,000-$200,000 | Sailing boats over 150ft |
| Average Weekly Catamaran Charter Rates | Catamaran |
| $10,000-$15,000 | Catamarans under 50ft |
| $15,000-$30,000 | Catamarans between 50ft and 65ft |
| $25,000-$50,000 | Catamarans between 65ft and 80ft |
| $40,000-$100,000 | Catamarans over 80ft |
| Average Weekly Motor Yacht Charter Rates | Motor Yachts |
| $15,000-$35,000 | Motor yachts under 80ft |
| $35,000-$80,000 | Motor yachts between 80ft and 120ft |
| $80,000-$150,000 | Motor yachts between 120ft and 150ft |
| $150,000-$500,000 | Motor yachts over 150ft |
Factors that Affect Yacht Charter Prices
Since charter yachts are privately owned, prices are set by the owner. This can explain, in part, the wide range of differences in price between boats of similar lengths. Yet, several other factors can significantly impact price, including:
The Yacht – The year the boat was built, the builder, previous owners, and the boat's selection of water toys can also increase the cost of a yacht. Boats can also develop a reputation, i.e. the largest or most luxurious, or having a famous builder or previous owner. Reputation can also affect pricing.
Season – Prices typically increase in the high season – i.e. high summer in the Mediterranean or winter in the Caribbean – and decrease in low seasons.
Destination – Your charter destination also plays a role in charter cost. For example, prices increase in areas without large charter fleets (i.e. the Galapagos), whereas Bahamas yacht charters or BVI charters are priced more competitively.
Additional Costs Considerations on Charter
In addition to the cost associated with running the yacht and provisioning, there are a number of other costs that must be considered. These are the most significant:
Advanced Provisioning Allowance
The APA on Plus Expenses charters equals roughly 25-35% of the yacht's base price. This is a fee that's collected prior to charter, and it's similar to an expense account the captain can access during the charter. At the end of charter, you will receive a detailed accounting of your APA account, plus any unused APA funds in cash.
In the case of overages, you may be required to replenish the APA account during charter. This can be done with cash, although many choose to set up accounts with their charter brokers, which can be accessed if requested by the captain.
Taxes and Value Added Tax (VAT)
Most boats – whether all-inclusive or Plus Expenses – will not include local taxes or a Value Added Tax into their charter rate. The charterer will be responsible for paying those taxes. Taxes range significantly by destination; here's a look at some of yachting's most popular destinations:
Bahamas – Tax: 4%
BVI – Tax: between $6 and $16 per person per day, depending on the flag of the boat
Croatia – VAT: 13%
Florida – Tax: 6% for Broward County, 7% for Miami-Dade County
France – VAT: 20%, however 10% can be applied when an itinerary includes International Waters
Greece – VAT: 12%
Italy – VAT: 22%, however 6.6% (over 24m) and 8.8% (under 24m) can be applied when an itinerary includes International Waters
Montenegro – NO VAT
New England– NO TAX
Spain– VAT: 21%
Turkey – NO VAT 
Insurance
Charterers can purchase cancellation and curtailment insurance – which is similar to traveler's insurance. This insurance can help cover costs if a charterer must cancel or shorten the charter. Charter brokers can help you weigh insurance options, and often offer several different options.
Crew Gratuity
While crew gratuity is certainly not mandatory, it is recommended, particularly if you were truly impressed with your charter experience. In general, crew gratuity is roughly 15-20% of the base charter rate, which is handed to the captain at the conclusion of your charter.
Delivery Fees
While these fees do not apply on most charters, you may be asked to pay delivery costs if you are not chartering in the yacht's normal cruising ground. In most cases, you will only be required to cover the fuel for the trip.
Call Worldwide Boat today to learn more. Our Charter Specialists are here to assist you with every detail and explain all charter costs. Or read our Charter Advice guide for more information and tips for planning your charter vacation.
Additional Charter Cost FAQs
What are standard private charter yacht prices?
There are a number of factors that affect charter yacht pricing. However, on average, a week-long private yacht charter costs anywhere from $10,000 on luxurious sailing yachts and catamarans, and up to $150,000 for superyachts.
What affects charter yacht prices?
There are several things that influence how much your yacht charter will cost. The type of vessel, charter destination, length of trip, base cost, time of year, and local taxes all make a difference.
How much does it cost for a crewed vessel?
Charter yacht prices do increase when hiring a crew along with the boat. At Worldwide Boat, we offer two types of crewed charter experiences: all-inclusive and plus expenses. An all-inclusive charter yacht includes accommodation for all guests, food and drink, water sport activities, and fuel costs – dockage fees and taxes are charged separately. A plus expenses experience accounts for just the yacht's base price. Things like food, drinks, fuel, dockages, taxes, and other expenses are charged separately and are usually estimated to be about 35% of the base price.
What's included in all-inclusive boat charters?
At Worldwide Boat, your all-inclusive charter experience includes a diligent and friendly crew, water toys, food, drinks, fuel, water and electric services, and occasionally diving experiences.
What are some additional charter boat costs to consider?
After finding a base price you're comfortable with and evaluating your package, you'll also want to consider delivery fees, crew gratuity, insurance fees, taxes, and Advanced Provisioning Allowance rates. If you are responsible for these fees, your crew will handle the necessary transactions on your behalf.
What does it cost to rent a 100- foot yacht charter?
This depends on what type of vessel you're looking at and how long you'll need it for. The average weekly cost of a 100-foot sailing yacht is between $50,000-100,000. A weekly 80-foot catamaran charter runs around $40,000-100,000, and a week-long 100-foot motor yacht rental is anywhere between $50,000-80,000.
Does the price to rent a yacht change depending on what type of boat it is?
Yes. Worldwide Boat offers sailing yachts, catamarans, and motor yachts. All of these vessels have different capabilities, but there are other factors that determine price beyond what type of boat you choose. The year the boat was built, owner, availability of water toys, on-board amenities, and the ship's reputation can all change how much the ship is priced at.
When is the high season for yacht charters?
The price of a yacht fluctuates depending on season. A Mediterranean yacht charter cost rises in the summer and drops in the winter, whereas Caribbean boat charter prices are high during the winter and lower in the summer months.
How does my destination affect charter yacht cost?
The more remote an area is, the more expensive it will be to charter a yacht there. That's because prices go up in areas that have fewer boats. If you were to travel somewhere like the Galapagos, which isn't a typical yacht destination, you'd pay more than you would if you were traveling to the Caribbean.
How much do I tip the crew when reviewing my yacht charter expenses?
It's not required that you tip your crew, but it is recommended and appreciated. If you had an enjoyable experience it's considered polite to tip your crew anywhere from 15-20% at the end of your charter.