All-Inclusive Yacht Charters
A brief guide to All-Inclusive Charters, what's included and what boats offer it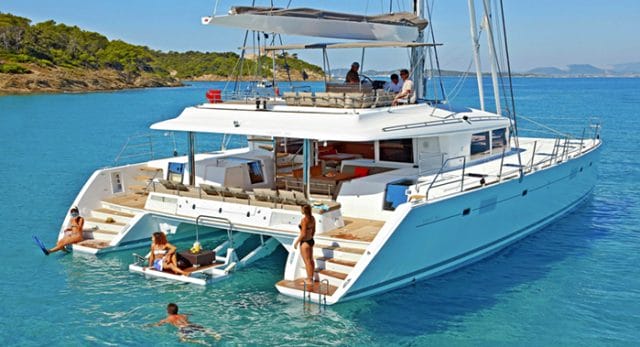 To many people, an all-inclusive yacht charter sounds like paradise. Not only do you get the 5-star experience of a luxury yacht charter, but an all-inclusive charter means you don't have to worry about expenses and many other fees while you cruise.
Not having to pay for expenses? That's sounds a little too good to be true. You might be wondering: Are there really yacht charters with everything included?
The short answer is yes! All-inclusive yacht charters are available, but the majority operate in just a few charter destinations in the world. In fact, the majority take place in the Virgin Islands (both the U.S. and British islands). Outside of the Virgin Islands, though, you'll find more traditional rate structures for charters, e.g. charter fees plus expenses.
In short, if you like the idea of an all-inclusive sailing vacation, consider a charter in the British Virgin Islands. A favorite Caribbean destination, the British Virgin Islands offer incredible beaches, exciting excursions and plenty of towns/resorts to explore. (Plus, you won't have to worry about any of the expenses while you cruise and relax.)
What's Included with an All Inclusive Charter?
All-inclusive means the majority of expenses – food, drink, fuel costs, taxes, etc. – are included in your charter fee. You aren't required to keep an expense account open. Rather, you pay a one-time fee prior to setting sail, and that's it.
But what amenities are included in an all-inclusive yachting trip? Here's a quick look:
Meals – Three chef-prepared meals per day, set to your preference.
Drinks – All beverages, including bar drinks and cocktails, set to your preference. This includes the beverages in the ship's open bar, which typically includes a mix of spirits, wine and beer.
Snacks – Hors d'oeuvres, desserts and snacks are included.
On-Board Amenities – Use of the onboard amenities and water toys, as noted on the yacht's e-brochure.
Fees/Taxes – Customs fees and cruising taxes are both included, unless otherwise indicated.
What's Not Included in an All Inclusive Yacht Charter?
All-inclusive includes many of your expenses throughout your charter, and that's one reason why many people like to book this type of vacation. It's easier to plan and budget for. Yet, there are some special fees and amenities that aren't included.
For example, dockage fees aren't included, which is a fee paid to overnight at a marina. And special beverage requests aren't included, as well. Here's a look at some amenities that aren't included:
Fishing Licenses – If you plan to do some sport fishing, you'll have to pay for the license in some cruising areas (not required for children).
Dockage Fees – If you would like to spend a night in a marina, you pay the cost of the slip and dockside electricity and water. Nights spent at anchor do not include any additional fees.
Special Food/Drink – Exclusive spirits, wines and food items may incur additional fees.
Scuba Fees – If you plan on scuba diving, you may incur additional fees for gear and permits.
Communications – Use of the yacht's on-board communications equipment is an added expense. This can include things like computer usage and satellite phones.
Transfers – Transfers from the airport to the yacht, or your return to the airport are not included.
Crew Gratuity – Gratuity is not included. Traditionally, guests tip the crew at the end of the charter; 15% is customary, but the amount is at your discretion.
Does All Inclusive Include Alcohol? The majority of all-inclusive charters include everything you eat and drink on-board, including alcohol from the ship's open bar. Yet, there are some charter operators that do not include alcohol in the all-inclusive, or they include just a small amount of alcohol. As you book an all-inclusive yacht charter, be sure to inquire about alcohol fees (if there are any).
All of the items that are included will be clearly marked on your charter contract, so you won't have any surprise exclusions. Traditionally, though, it's rare for a yacht to charge an additional fee for alcohol.
What Types of Yachts Are Available for All Inclusive
Not all yachts are available for all-inclusive charters. In fact, yacht charters in the British Virgin Islands that offer all-inclusive rates tend to be sailing vessels – both sailboats and catamarans – and they're typically smaller in size.
Sailing Yachts/Catamarans – The reason why sailing yachts and catamarans are more likely to offer all-inclusive charters is that they have much more predictable costs (e.g. little-to-no fuel costs). Plus, the British Virgin Islands is a small cruising ground, with a mix of beautiful islands located close-by. As a result, captains can better determine costs beforehand, which makes all-inclusive pricing possible.
Motor Yachts/Superyachts – Motor yachts and superyachts, on the other hand, rarely offer all-inclusive rates. The reason? Fuel costs for motor yachts and superyachts tends to be highly variable; a last-minute itinerary change or increasing fuel prices can result in costs being much higher or lower.
Off-Season Specials. Some destinations, especially the British Virgin Islands, offer all-inclusive specials during the off-season (spring, summer and fall). You'll find many more all-inclusive promotions during off-peak charter seasons, compared to the winter high-season. Our team of charter brokers has the scoop on all the latest trends; just let us know and we can help you find what you're looking for.
All-Inclusive Sailing Vacations: British Virgin Islands
The British Virgin Islands are a legendary sailing grounds. Here, you'll find more than 25 islands and atolls to explore – including Tortola and Jost Van Dyke – as well as untouched beaches, reef diving/snorkeling spots, seaside cabanas, and a decidedly laid-back vibe.
Sailing the waters also make for a fun vacation. Throughout the year, the BVI receive steady tradewinds, incredible weather, and the water is warm and inviting no matter the time of year. A few key reasons to consider a sailboat charter in the BVI:
Year-Round Charters – A sailboat charter in BVI is possible year-round. Like most of the Caribbean, winter is high season, when guests are treated to incredible weather and calm seas. Yet, early spring and fall are perfect times for off-season charters. In summer, the weather can be unpredictable, but many choose to charter in the summer.
Plenty to Do/Explore – No matter your interests, you'll find tons of one-of-a-kind adventures in the BVI. Tour centuries-old rum distilleries; surf, kayak, or kitesurf; hike the region's numerous jungle trails; take an ATV tour; or relax at one of the island's legendary beach parties.
Incredible Sailing Grounds – The BVI's 25 islands offer action-packed itineraries for sailing charters. Start your vacation in Tortola, the largest island, and check out nearby islands like Jost Van Dyke, Sandy Cay and Norman Island.
All-Inclusive Catamaran Vacations: British Virgin Islands
Catamaran charters are popular in the BVI, and there are many reasons you might consider an all-inclusive catamaran charter compared to a sailboat charter. A few of the top reasons include:
Stability – Catamarans have two hulls, which increases stability at sea. Many people prefer catamarans for this reason.
Shallower Waters – Catamarans can access shallower coves and waters, which opens up more possibilities in BVI. There are more than 60 atolls, cays and islands you can access in the BVI on a catamaran.
Faster Cruising – Catamarans move faster and allow charter guests to see more on their charters.
Spaciousness – The two-hull design provides a bit more space above and below deck, which increases privacy and allows more people to travel together.
Bareboat Charters vs. All-Inclusive
Some yacht charter guests like to hire their own boats, without a crew to sail the British Virgin Islands. These so-called bareboat charters offer some flexibility. Yet, the costs can quickly add up.
With a bareboat charter, you're responsible for all food and beverages for your trip. Plus, any customs fees, cleaning fee, dockage, taxes, etc. are the responsibility of the charterer. Therefore, charter costs add up quickly, and bareboat charters tend to be similarly priced to all-inclusive charters, after all expenses have been calculated. Here's a quick look at these types of charters:
Bareboat – Nothing is included in your charter fee. You pay to rent a boat without a crew, and you're responsible for food/drink, fuel, dockage and custom fees, and taxes.
All-Inclusive – The majority of fees are included. Plus, you charter a fully crewed yacht. Depending on the yacht's size, your crew will include a captain and at least one additional crew member to provide onboard services.
Of course, an all-inclusive crewed charter also offers peace of mind and pure relaxation. You sit back and enjoy your vacation, while the crew handles the details. If you're interested in learning to sailing during your vacation, talk with your yacht charter broker. Many yachts are happy to provide guests with some hands-on sailing experience during a sailboat yacht charter.
Book An All-Inclusive Charter in the British Virgin Islands
Does an all-inclusive yacht charter sound like your dream vacation? Let us help you make that dream a reality. Worldwide Boat's brokers offer access to some of the best sailing vacations in the British Virgin Islands.
From all-inclusive sailing vacations, to catamaran vacations, our team can help you find the perfect yacht to charter for your next expedition. Contact your broker with Worldwide Boat today to learn more about our all-inclusive options.